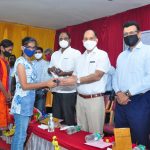 A comprehensive eye care program for the children studying in Government schools of T Narasipura Taluk, Mysore District.
Spectacle distribution program was organized by the Education Department, T Narasipura Taluk, Government of Karnataka, Samadristhi, Jaya Foundation, SightRyt, and Essilor Vision Foundation. Through this program around 16,000 children studying in 225 Government Schools underwent free vision screening and 600 children identified with refractive error got spectacles at no cost.
Ashwin Kumar, MLA, T Narasipura, was speaking after distributing free spectacles to the school students at a program held at Guru Bhavan here. He said Vision is very important for children to excel in academics and hence, children should take care of their eyes,
The chief guest of the program, Mr. K Ullas Kamat, Founder of Jaya Foundation, asked the Children, Parents, and Teachers to contact the nearest eye care service providers to protect children's vision against issues such as refractive error, infection, deficiencies, and other issues.
Chief Executive Officer of SightRyt, Shiva Kumar Janardhan, Siddharth Pai, Director SightRyt, Sumith Kumar, Essilor India, K.V.Mahesh, Board of Trustee- Essilor Vision Foundation, Block Education Officer Mariswamy, were present.
About Essilor Vision Foundation (EVF) India
Essilor Vision Foundation is the philanthropic arm of Essilor International, the world's leading ophthalmic optics company. In order to help address the global issue of uncorrected poor vision that affects about 2.7 billion people around the world, Essilor Vision Foundation through a partnership with different state governments and other stakeholders promotes access to good vision through free screenings and the provision of corrective glasses to communities in need. https://india.essilorvisionfoundation.org/