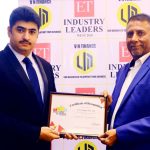 Mr. Vijay Kakkad (Chairman) and Mr. Mohit Kakkad (MD) of V. N. Finance Pvt. Ltd. have been honoured with the prestigious Economic Times (ET) Industry Leaders West Award 2020. V. N. Finance has been recognised by ET as Emerging Firm in Tech-Enabled NBFC category.
Mr. Vijay Kakkad, the key guiding force of the Company, is a sharp entrepreneur with unparalleled business acumen. He has more than 30 years of experience of running different businesses. Mr. Mohit Kakkad is a young dynamic entrepreneur with a vision to reach out to every person, who is not able to fulfil his/her dreams for lack of finance. He appreciates the power of technology and is an avid learner with a number of successful businesses under his belt. V. N. Finance seeks to deploy best-in-class cutting-edge technology and digital solutions to keep up with its mission of providing the best-possible customer experience and lightning fast decision making in loan appraisal and disbursal processes. It has created benchmarks for the processes, which are monitored religiously and constantly upgraded to the next level.
Mr. Vijay Kakkad, Chairman, V. N. Finance, said, "We, at V. N. Finance, are proud and honoured to be recognised as ET Industry Leaders West award winners for year 2020. V. N. Finance is a tech-enabled new-age NBFC, which empowers unbanked and financially lesser privileged sections of society at the mid-bottom of the pyramid. I dedicate this award to every entrepreneur, start up, business man and woman, migrant workers and labourers who want to realize their dreams and fulfil aspirations."
Mr. Mohit Kakkad, MD, V. N. Finance, added, "V. N. Finance intends to transform the loan marketplace in India by fulfilling its customers' dreams with easy, quick and hassle-free loans. Our People, Digital Systems & Processes are so customer friendly that even uneducated customers can navigate through with utmost ease. V. N. Finance is extremely fast in credit assessment and disbursal with 90% plus strike rate of disbursals in less than 24 hours. In addition to the above, we have developed a proprietary credit evaluation algorithm, which enables us to serve our target segment with the right balance of managing risks. We are also developing technology backbone to enhance the reach of our unique approach and leverage our algorithms."
N. Finance recently announced Gold Loan to help people unlock their dreams instantly from anywhere anytime. It helps them to get the best and highest (possible) loan to value (LTV) ratio on a 24X7 basis and to sail through their urgent financial needs smoothly within a short period of time. Those people, who need unsecured loans and have no security or no existing assets, can directly (or through intermediaries) approach VN Finance and share their creditworthiness and repayment capacity. They will get the funds at the best of terms to achieve their dreams. VN Finance offers pre-payment option-without any penalty; optimal documentation; shorter response time; and safe custody for family jewels and gold jewellery. Just call 022-20877888…
VN Finance also offers secured loans such as Loan Against Property (LAP) and Loans against Inventories. V. N. Finance's professional team fully understands business needs and provides funding against the goods and inventories already lying in the shops/godown. The small business owner just needs to furnish the inventory list, its value and their needs. It is also taking its social responsibility seriously with an initiative to help NGOs and self-help groups in assisting migrant labour and other poor & needy. It recognised that every customer's needs are different with different context — so 'one-size fits all' approach doesn't apply.
V. N. Finance Pvt. Ltd. (VNF) is an innovative financial company Incorporated in March 2019 as a Non-Deposit taking NBFC (ND). The company is founded by 31-year old Mohit Kakkad with a vision to use technology to provide finance to hitherto unbanked section of society. The Company is mainly engaged is providing the small and medium size ticket loans on secured and unsecured basis. Unsecured loans are being provided based on creditworthiness and repayment capacity of the borrowers. The senior management of the company consists of senior leaders from banking industry and mentored by some of the highly qualified professionals. V. N. Finance has put in place an interest rate policy, adopted by the Board, taking into account relevant factors such as, cost of funds, margin and risk premium, etc and determine the rate of interest to be charged for loans. It has a robust KYV Policy, Fair Practices Code and Corporate Governance Policy.