Indian Prime Minister Narendra Modi did another one of his much dreaded 8pm speeches. In the last speech, he had ordered a nationwide curfew. In his speech yesterday, he said that the entire country will be locked down from 12:00pm midnight for 21 days. He omitted about mentioning anything about essential commodities like food, milk, etc.
Indians across the country panicked and rushed to the neighbouring stores for essential items. It was so crowded that all the norms of social distancing were ignored. In case any of the customer was a carrier of coronavirus, it would have easily been spread to others in the crowd. Many of them were not wearing masks or gloves.
Around 1:30 hours after his speech, he tweeted mentioning that essential items will be available without elaborating further. It did nothing to ally public concerns.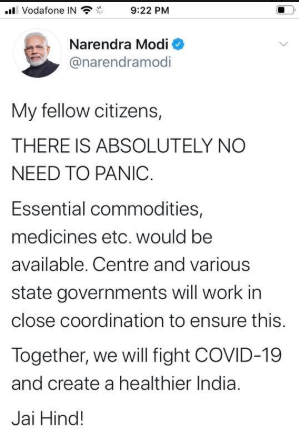 All the eCommerce companies including Amazon, Grofers, Flipkart, and others have suspended operations today. They have shared inability to provide goods and services.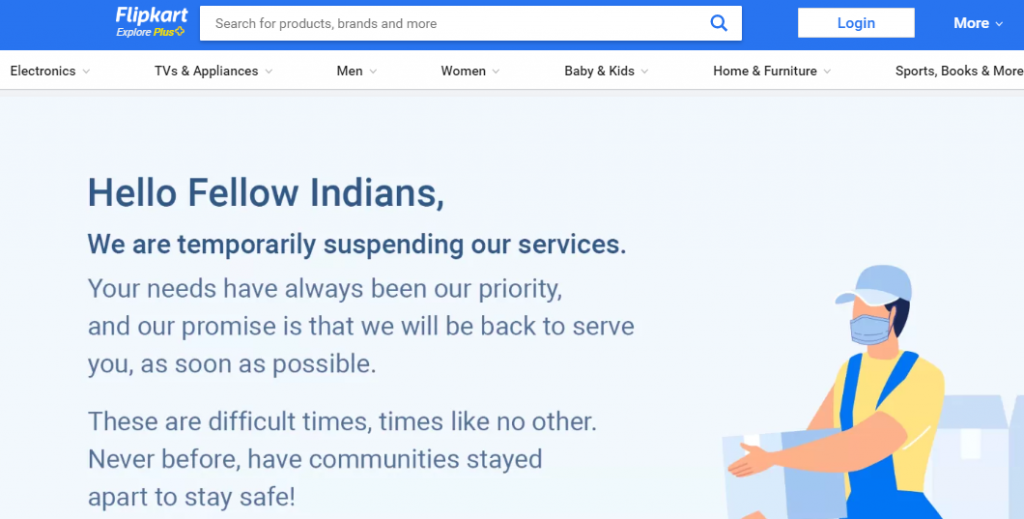 There is a vast difference between a lockdown and a curfew. By equating a lockdown to something stricter than a curfew, Modi has sent a wrong message both to public and also to the administration. Even Press Information Bureau was unprepared to handle it and it's servers crashed.
Police has started stopping goods carrying essential commodities and have started harassing anyone out on the road, even those providing essential services. In Delhi there was almost no milk supply to homes. Some Mother Dairies had stock but it was soon finished.
The much debated and devastating demonetization was announced at 8pm, keeping in mind that people may tune in after coming back from work. However, announcing a lockdown at 8pm from midnight caused unnecessary panic and fear. It could have easily be announced early in the day and the media would have looked up the orders and shared the right information with the public. Looking at the way things are today, the public is perhaps right in not trusting the government.
Only thing to do now is, send clear instructions to the administration that goods vehicles will not be stopped. Anyone out on the road, wearing a mask and going for buying essential commodities, should not be harassed. Private enterprises involved in essential commodities like milk production, food production, medicine production, etc. should be allowed to function peacefully and their workers should be treated at par with police and other essential services.
If it is not done urgently then it will be an utter chaos.