The BLUETTI AC500, an upgrade to the classic model AC300, debuted on Indiegogo and achieved remarkable success. It raised over $12 million in two months, breaking the world record for any portable power station fundraising event.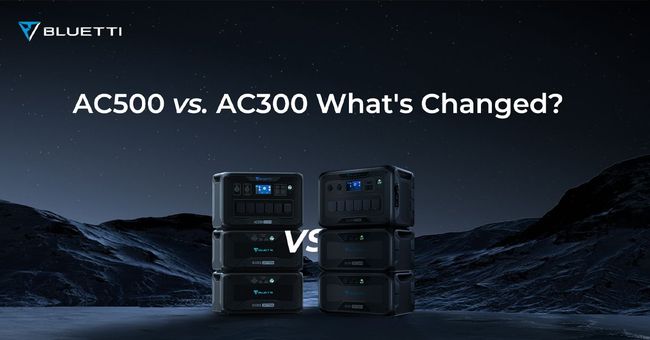 AC500 vs. AC300
Comparison of AC300 & AC500
Model: AC300
Rated Power: 3,000W
Scalability: Up to 4*B300
Max. Input (AC+PV): 5,400W
Max. AC Input: 3,000W
Max. Solar Input: 2,400W
Smart App Control: Yes
Warranty: 4-Year
Model: AC500
Rated Power: 5,000W
Scalability: Up to 6* B300S or 4*B300
Max. Input (AC+PV): 8,000W
Max. AC Input: 5,000W (at least 2*B300S)
Max. Solar Input: 3,000W
Smart App Control: Yes
Warranty: 4-Year
Same Size, Different Energy
AC300 boasts a 3,000W output power, while AC500 has raised to 5,000W. The AC300 can work with up to 4 B300s to reach 12,288Wh capacity, whereas the AC500 can support up to 6 x B300S for 18,432Wh or 4 x B300 for 12,288Wh.
Unrivaled Charging Speed
AC300 features up to 5,400W input rate via AC outlet and solar panels simultaneously. However, the AC500 takes this a step further – 8,000W. An AC500 + 2 x B300S system 0-80% recharging takes 40 minutes.
Endless Solar Energy
The AC300 system can support a maximum solar input of 2,400W, while 3,000W for AC500. They can deliver constant power to devices or store any excess energy in their batteries for later use. Numerous solar panels, including the BLUETTI PV200, PV350, and PV420, can be used for efficient charging.
Upgraded Battery Pack
The B300S is designed with an intelligent self-heating capability to heat up responsively even when the ambient temperature is as low as -20 degrees Celsius, ensuring that the AC500 system operates smoothly during winter.
Friendly to B300 Users
The AC500 is compatible with B300 and B300S, so the AC300 owners can gain 170% power by purchasing an AC500 instead of replacing the entire system. They can also be mixed in an AC500 system (up to 4 packs in total).
Is AC300 still worth it?
When considering the price difference of up to $999, the AC300 may be a more budget-friendly option for users who don't require extreme performance. Yet, the AC500 would be a better choice for those living in colder areas, as it offers higher power and more efficient charge/discharge rates.
About BLUETTI
BLUETTI has been committed to promoting sustainability and green energy solutions since its inception. By offering eco-friendly energy storage solutions for both indoor and outdoor use, BLUETTI aims to provide exceptional experiences while contributing to a sustainable future for our planet. This commitment has helped BLUETTI expand its reach to over 110 countries and gain the trust of millions of customers worldwide. For more information, please visit BLUETTI online at https://www.bluettipower.com.au.
Contact Information
Amanda Yan
Integrated Marketing for BLUETTI
pr@bluetti.com
+8615013559696
Related Images:
https://cdn.newswire.com/files/x/64/fb/b907cedbce593f011cb6cb4c4817.jpg