SFH visited Queen Elizabeth Hospital and joined staff sharing webinar to promote COVID-19 vaccination (with photos)
******************************************************************************************

The following is issued on behalf of the Hospital Authority:
     The Secretary for Food and Health, Professor Sophia Chan, paid a visit to the School of General Nursing at Queen Elizabeth Hospital (QEH) today (August 13) and participated in a staff sharing webinar "Our Family fought against COVID-19", organised by Kowloon Central Cluster, Hospital Authority. Professor Chan also talked with representatives of departments with high vaccination rates, and appealed for the support from frontline healthcare staff and members of the public to get vaccinated.
 
     "Healthcare colleagues working in hospitals take care of patients every day and their infection risk of COVID-19 is relatively higher. Therefore, colleagues should get vaccinated as soon as possible to protect patients, themselves and their families," Professor Chan said while having an exchange with department representatives.
 
     "The vaccination rate of Hospital Authority staff has reached 82.8 per cent. Over 94 per cent of medical staff, 80 per cent of nursing and allied health colleagues have received vaccines. More than 86 per cent of clinical support staff have been vaccinated. Thank you for the continuous support from HA staff on the vaccination programme of the Government."
 
     Professor Chan was pleased to learn that many staff in Kowloon Central Cluster have received vaccinations. The vaccination rate in some hospitals and departments are very satisfactory. Professor Chan praised that they were acting as role models to motivate more frontline staff to get vaccinated. "The COVID-19 situation all over the world is still serious. In the face of challenges posed by mutant strains, citizens should fulfil their civic responsibility and receive vaccines extensively in order to strengthen the immunity barrier in Hong Kong. I appeal for the support from those healthcare workers who have not received vaccinations to get vaccinated in support of the 'Early Vaccination for All' campaign proactively, with a view to protecting themselves and others, and building up the immunity barrier in Hong Kong," Professor Chan noted further.
 
     In the webinar "Our Family fought against COVID-19", Professor Chan listened to the sharing from a patient recovering from COVID-19, and how his family of five members fought against the disease for more than two months.
 
     In the webinar, the patient Eddy shared that his parents, elder brother and niece were confirmed with COVID-19 in July 2020. He also shared the experience of recovery treatment in the isolation ward at QEH. He expressed gratitude to all frontline healthcare workers. The Head of Infectious Diseases Team, Department of Medicine, QEH, Dr Wu Tak-chiu, highlighted how the medical team fought against COVID-19 together with Eddy's family by providing professional and prompt treatment to the family. Both of them had the same feeling that family members of various ages could get infected and therefore they encouraged members of the public to receive vaccinations as soon as possible.
 
     As at August 12, over 13,600 staff in Kowloon Central Cluster have received vaccinations. The 10,000th colleague receiving a vaccination in the cluster was identified on July 27. To mark such a landmark, Professor Chan and the Cluster Chief Executive, Kowloon Central Cluster, Dr Albert Lo, presented a certificate to the 10,000th staff member receiving a vaccination in the cluster as an encouragement. "In light of frontline healthcare staff's job nature or the possibility of coming into frequent contact with the public, including patients and visitors, getting vaccinated is of great urgency," Dr Lo added.
 
     For more details about the event, please browse the QEH Facebook Fan Page.
More than 29 lakh people visited "Hunar Haat", organised at Avadh Shilpgram, Lucknow (UP) from 22nd January to 07th February, 2021 and became "Proud Promoter" of "Vocal for Local" campaign by purchasing handmade products of indigenous artisans and craftsmen worth crores of rupees. 

While talking to media persons in Lucknow today on the concluding day of "Hunar Haat" at Avadh Shilpgram, Union Minister for Minority Affairs Shri Mukhtar Abbas Naqvi said that, while on one hand exquisite handmade products of almost every region of the country were available under one roof at "Hunar Haat", the visitors also enjoyed traditional delicacies of different parts of the country.

Shri Naqvi said that artisans and craftsmen from 31 States and UTs participated in the "Hunar Haat" organised by the Ministry of Minority Affairs at Lucknow. About 500 artisans, craftsmen and culinary experts from Andhra Pradesh, Assam, Bihar, Chandigarh, Chhattisgarh, Delhi, Goa, Gujarat, Haryana, Himachal Pradesh, Jammu-Kashmir, Jharkhand, Karnataka, Kerala, Ladakh, Madhya Pradesh, Manipur, Nagaland, Odisha, Puducherry, Punjab, Rajasthan, Sikkim, Tamil Nadu, Telangana, Uttar Pradesh, Uttarakhand, West Bengal etc came at "Hunar Haat" in Lucknow for display and sale of their exquisite handmade products.

Indigenous products like Ajrakh, Applique, Art Metal Ware, Bagh Print, Batik, Banarsi Saree, Bandhej, Bastar Art & Herbal products, Block Print, Brass Metal Bangles, Cane & Bamboo products, Canvas Painting, Chikankari, Copper Bell, Dry Flowers, Handloom Textile, Kalamkari, Mangalgiri, Kota Silk, Lac Bangles, Leather products, Pashmina Shawls, Rampuri Violin, wooden and iron toys, Kantha Embroidery, Brass products, crystal glass items, Sandalwood products, wooden and cane furniture etc were available at "Hunar Haat" in Lucknow.

Shri Naqvi said that "Hunar Haat" at Lucknow was also available at virtual and online platform http://hunarhaat.org .  People of the country and abroad appreciated and bought "Hunar Haat" products digital and online also. Now, the "Hunar Haat" is also available on GeM (Government E Marketplace) Portal. 

Shri Naqvi said that more than 5 lakh artisans, craftsmen and people associated with them have been provided employment and employment opportunities in the last 6 years through "Hunar Haat".

Shri Naqvi said that renowned artists of the country performed various cultural programmes daily at "Hunar Haat" on the theme of Aatmanirbhar Bharat". Artists such as Shri Kailash Kher (30th January); Shri Vinod Rathore (28th Janaury); Shri Sudesh Bhonsle (06th February); Shri Mohit Khanna (22nd January); Shri Bhuppi (23rd January); Ms Rekha Raj (24th January); Ms Rani Indrani (25th January); Hamsar Hayat Group (26th January); Shri Amandeep Singh (27th January); Shri Prem Bhatia (29th January); Ms Shibani Kashyap (31st January); Sharma Sisters (1st February); Shri Alamgir Khan (2nd February); Shri Mukesh Pancholi (3rd February); Shri Ehsan Qureshi (4th February) and other artists enthralled the audience with their musical programmes.

Shri Naqvi said that the 25th "Hunar Haat" is being organised at Maharaja College Ground, Chamarajapuram, Mysuru (Karnataka) from 06th to 14th February, 2021. In the coming days, "Hunar Haat" will be organised at New Delhi (20th Feb to 01st March 2021), Kota (28th Feb to 7th March 2021), Jaipur, Chandigarh, Indore, Mumbai, Hyderabad, Ranchi, Surat/Ahmedabad, Kochi, Puducherry and other places.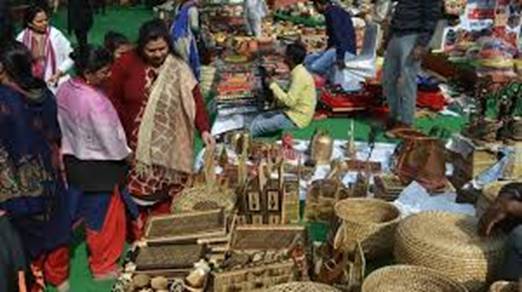 ***

N.Ao / KGS/ (MoMA inputs)

(Release ID: 1695924) Visitor Counter : 124