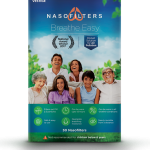 Vestige launches NASOFILTERS,
a revolutionary disposable respiratory filter to combat air pollution
· 90% efficacy against PM 2.5
Air pollution has become a major health hazard for mankind causing millions of deaths worldwide and particularly in India every year. Being a silent killer, people often do not realise the danger posed by air pollution both inside and outside the house to their overall health and well-being. And now the COVID-19 virus, which primarily attacks the respiratory system has further emphasised the need and the importance of breathing clean air, both inside and outside of our homes. Vestige Marketing Pvt Ltd, India's leading home-grown direct selling company launches Vestige NASOFILTERS, a revolutionary disposable respiratory filter that restricts entry of dust and suspended particulate matter (PM) from entering the body while breathing. This is a great value addition to their health and wellness product range.
Over the next few months, air pollution will be rising relentlessly in several parts of the country causing severe breathing issues for many. People are compelled to breath toxic air, with harmful PM 2.5 particles, at home and outdoors. Vestige NASOFILTERS will help address this issue greatly as it filters out PM 2.5 pollutants with a proven efficacy of 90%.
Commenting on the launch of Vestige NASOFILTERS, Mr. Gautam Bali, Managing Director, Vestige Marketing Pvt Ltd, said, "Air pollution is a silent killer and it has been proved that people suffer from so many respiratory and related ailments, like asthma, allergies, long-term breathing problems and other health issues due to it. We are committed to providing the best, world-class solution to our people and I am delighted to introduce Vestige NASOFILTERS. It will not just provide an easy breathing solution, but also prevent harmful PM 2.5 particles from getting inside the body."
The affordable nasal filter has a major advantage: it is not conspicuous – unlike the rather large traditional face masks typically found in the market. Users simply have to cover their nostrils with the nearly transparent filter and can wear this for up to twelve hours. The filter is 90% effective against PM 2.5.
The USP of Vestige NASOFILTERS:
Proven efficacy of 90% against PM 2.5 particles
With negligible breathing resistance, the Vestige NASOFILTERS can be worn for up to 12 hours
The safe and easy to use NASOFILTERS are almost invisible from a distance and can be worn in all weather conditions
Cost-effective, comfortable, aesthetically pleasing and easy to wear and dispose
Vestige NASOFILTERS can help protect from dust and other respiratory allergies
Vestige NASOFILTERS are available in a monthly pack. These filters come in standard size.  Vestige NASOFILTERS cost MRP ₹500/30 Pieces incl. of all taxes
For more details, please visit www.myvestige.com or contact your nearest Vestige distributor.
About Vestige Marketing Pvt. Ltd.
Founded in 2004, Vestige is one of the leading direct selling company in India. Offering a portfolio of 300+ products across wellness, health, hygiene, home and beauty segments through 3000+ distribution points across India, and a business presence in six international markets including India, i.e., Bahrain, Bangladesh, Saudi Arabia, Oman and the UAE. Vestige is ranked number 30 in the 2020 DSN Global 100 List, the prestigious global ranking for direct selling companies. The company is run by veteran leaders who have pioneered an indigenous and unique business model which is revolutionising the direct selling industry.