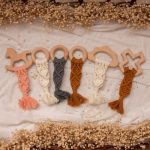 September 2020, Springfield, Australia: My Luxeve is one of the premium websites offering luxe quality baby products such as teethers, feeding items and educational toys. They have newly launched collapsible silicone snack cups, silicone suction plate with lid and pattern bibs for toddlers.
Make the feeding time of your little one a happy time with every meal with My Luxeve's adorable and colourful feeding sets. My Luxeve is offering their recently launched collapsible silicone snack cups, silicone suction plate with lid and patterned bibs for your toddler's mealtime.
Every parent knows that feeding their babies can be challenging. My Luxeve provides kid-friendly bibs designed and created with lots of love and consciousness. Even the bowl and plate are made up of soft 100% food-grade silicone that is BPA free and non-toxic.
The Patterned Silicone feeding bibs are gorgeous and functional. They help save your little one's clothes (and your sanity!). The bibs are easy to roll up and take with you. There is a four-button adjustable neck and are suitable from ages 4 months to 3 years.
The next product is the collapsible silicone snack cup. These snack cups are lightweight and come with a handle that makes them easy to hold. The super-soft silicone makes reaching in to grab a snack easy for little hands. Expand the snack cup to put snacks inside and then once they are finished, collapse and seal with the lid. These cups are perfect for travel, car trips, walks in the pram, eating on the go or at home.
Apart from these, My Luxeve offers a huge collection of cute and classy luxe baby items like fox teether, macramé ring teether, macramé shape teether, silicone bibs, silicone suction bowl and spoon, alphabet tracing board, colour beadboard, fraction puzzle board, number tracing board, a shape made puzzle, wooden memory match game, and much more.
So if you want the best products for your child, My Luxeve will help you with versatile toddler products. To know more about them or purchase from their vast collection of luxe baby items, write to them at hello@myluxeve.com or call them on 1800 512 140.
About the Author:
My Luxeve is an Australia-based provider of baby products like feedings items, cute teethers and educational toys for kids between 0-4 years. They deal in luxury products and every item be it teethers, bowls, spoons or games made from BPA-free, 100% food-grade non-toxic silicone and Beachwood.