TANAKA Kikinzoku Kogyo K.K. (Head office: Chiyoda-ku, Tokyo; Representative Director & CEO: Koichiro Tanaka), one of the core companies of the Tanaka Precious Metals group based in Japan, announced today that it acquired all shares of Metalor Electrotechnics (Suzhou) Ltd. (hereafter, "Metalor Suzhou") held by its group company Metalor Technologies International SA (hereafter, "Metalor") on April 1, 2023. Metalor Suzhou is Metalor's subsidiary in China, and this acquisition of shares makes Metalor Suzhou a wholly-owned subsidiary of TANAKA Kikinzoku Kogyo. The subsidiary has been renamed METALOR TANAKA Electrical Materials (Suzhou) Ltd., and its system of directors will be changed.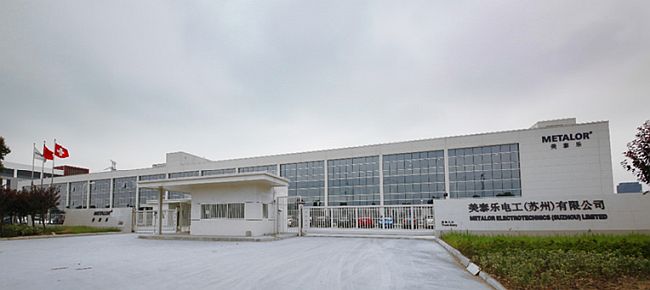 Metalor Electrotechnics (Suzhou) Ltd. (From April 2023, METALOR TANAKA Electrical Materials (Suzhou) Ltd.)
Reasons for the Acquisition of Metalor Suzhou's Shares
In recent years, there have been increasing needs from major Chinese customers for local production of electrical contacts in China. Therefore, TANAKA aims to continuously expand business in China by integrating TANAKA Kikinzoku Kogyo's production knowledge with Metalor Suzhou's resources to expand production capabilities and build a system for stable supply. Furthermore, it will be an essential base for business expansion, using TANAKA's network to open new markets and gain new customers in Asia, which has prominent market growth. In 2024, a portion of TANAKA Kikinzoku Kogyo's electrical contact-related products will be transferred, and mass production will commence. It is expected that the new company's sales will double by 2030.
In addition, the system will be capable of supplying a broader range of products through collaboration with group company TANAKA Kikinzoku (Ningbo) Co., Ltd., which manufactures silver electrical contacts used in automotive components.
About Metalor Suzhou
Metalor Suzhou commenced operations in 2006 as Metalor's base for the manufacture and sales of electrical contacts for Asia and China. The company manufactures and sells electrical contacts and contact assemblies used mainly in circuit breakers and contactors. In 2014, the Metalor Suzhou plant was relocated to its current location in Wuzhong, Suzhou.
Outline of New Company (from April 2023)
– Company Name: English: METALOR TANAKA Electrical Materials (Suzhou) Ltd.
– Chairman (Representative Director): Tomoyuki Tada
– Location: 888 Wusong Road, Wuzhong Economic and Technological Development Zone, Suzhou, China
– Activities: Manufacture and sales of electrical contacts/wires and contact assemblies
About TANAKA Precious Metals
Since its foundation in 1885, TANAKA Precious Metals has built a portfolio of products to support a diversified range of business uses focused on precious metals. TANAKA is a leader in Japan regarding the volumes of precious metals handled. Over the course of many years, TANAKA has not only manufactured and sold precious metal products for industry but also provided precious metals in such forms as jewelry and assets. As precious metals specialists, all Group companies in Japan and around the world collaborate and cooperate on manufacturing, sales, and technology development to offer a full range of products and services. With 5,225 employees, the Group's consolidated net sales for the fiscal year ending March 31, 2022, were 787.7 billion yen.*
*From the current consolidated fiscal year, the amounts of sales for some transactions are indicated as net values due to the application of the Accounting Standard for Revenue Recognition.
Global industrial business website
https://tanaka-preciousmetals.com/en/
Product inquiries
TANAKA Kikinzoku Kogyo K.K.
https://tanaka-preciousmetals.com/en/inquiries-on-industrial-products/
Press inquiries
TANAKA Holdings Co., Ltd.
https://tanaka-preciousmetals.com/en/inquiries-for-media/
This press release in PDF: https://www.acnnewswire.com/docs/files/20230228_EN.pdf
Copyright ©2023 JCN Newswire. All rights reserved. A division of Japan Corporate News Network.