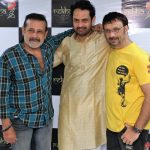 Actor-Producer Rudra Kaushish who was last seen in Star Plus's 'Dadi Amma Dadi Amma Maan Jao', had expanded into production too with his own production house 'Rekha G Films'. His debut short film as a Producer released on an International OTT platform in January. In the lockdown period, the production house has released 5 shorts on OTT.
Rudra inaugurated the new office of his production house with his close friends, family and staff on the auspicious occasion of Dusshera. "We as a team were working from home in the pandemic and as the lockdown was opening up in phases, I strongly felt that we should we have an office due to the large volume of projects we are undertaking. We are practically producing a short film a month, we could manage it from home till now but as the scope of work was increasing, we took the leap of faith."
Rudra who was in his hometown in Jodhpur returned to Mumbai in October. Continuing the conversation he said; "Coming to Mumbai was like coming from Green Zone to Red Zone. However, I came as I did not want to miss the auspicious occasion of Dusshera for the inauguration. God has been kind, in difficult times we could manage to grow and how. I see more content being produced as the markets open up further. In a very short span of time, the production house has become synonymous with quality content and also has the bandwidth to get the desired quantity of output. Our focus on both quality and quantity has given us an edge."
Due to the pandemic, the event was a close affair with a few members from the family, staff and co-actors and crew joining Rudra. Mohit Malik, Aakriti Sharma, Myra Singh, Seema Biswas, Mohan Joshi, Sheen Das, Anagha Bhosale, Bhumika Gurung, Vatsal Sheth, Dayanand Shetty and producer Rajan Shahi conveyed their best wishes to Rudra over messages. Actors Romanch Mehta, Ishrat Jahan, Adi Irani and Shiva Rindani graced the occasion with their presence. "As they say; well begun is half done – I am happy that we could kickstart right as the festive period is picking up momentum. I am really grateful to all the blessings, wishes, love and adulation that I received from every quarter of the industry. I am sure that this will help us to scale newer heights" said an ecstatic Rudra as he signed off.