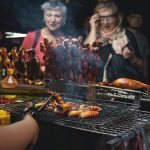 When we travel, the food we eat tells a story, unlocking social customs and revealing ancient traditions, all while offering us a chance to connect with the locals in an organic way. There is no better way to understand the culture of a city/state than to dig your hands and enjoy the culinary delights of a new place. So, get ready to indulge in some traditional cuisines that will satiate your food cravings!
RCI India has assembled the most extravagant, most essential and the most sensual reasons to plan your next trip focusing on culinary travel.
Mumbai: In Mumbai, start with the chaat, a collection of snacks that marries the crunchy and soft textures of puffed rice and crackers with the sweet, tart flavours of chutneys. Then there's the pav bhaji, a spiced mixed vegetable concoction, slathered with butter and drizzled with lemon juice, that you've got to grab with the toasted buns served on the side. When you travel to Mumbai, eat what the locals love, that means hitting the streets. A stroll through this large city will reveal colourful, vibrant food stalls and carts. While in Mumbai, book your stay at VITS Mumbai . The hotel is situated in the heart of the city which allows to explore the Mumbai food life easily.
Kolkata: Kolkata is among those Indian cities for food lovers, which never disappoints the food lovers when it comes to food. From sweets that melt in your mouth to the best Kathi Rolls that would leave a lingering taste in your mouth, this city has it all. When in Kolkata, you should never miss the authentic Chinese food at China Town, and Phuchka, Mughlai Paratha, and Cutlets from the narrow streets of North Kolkata. A walk in the lanes of New Market Kolkata will introduce you to the most amazing sweet shops where you will get to enjoy the traditional roshogulla, jalebi and kachori. While in Kolkata, enjoy your stay at The Fort Holiday Klub, situated on the river side in Raichak. The township is in colonial style and is a beautiful destination for holiday lovers and most preferred destination for RCI members.
Hyderabad: Known as the 'City of Nizams', this city is a melting pot of Turkish, Mughlai, and Andhra cultures. In fact, the local cuisine mostly consists of rice, meat, and spices. The best example is the internationally famed Hyderabadi 'dum biryani' which is full of spicy flavors. You can also binge on street-side local delicacies such as tootak and kheema-samosa. The one food item that would never disappoint you is the world famous "Hyderabadi Dum Biryani". Try the several types of Biryani that the Telangana Capital has to offer, especially the Kachhe Gosht ki Biryani. Among other delicacies are the Haleem, Paaya, Hyderabadi Marag, etc. You are surely coming back after putting a few kilos on you. For a complete trip, plan your stay at Leonia Holistic Destination, which was established with the concept of providing a unique and a fully integrated leisure experience
Kerala: Surrounded by the sea, Kerala is home to numerous lip-smacking dishes prepared out of seafood, some of which include mussels, crab, tiger prawns, king prawns, oysters, sardines, mackerel, tuna and gorgeous red lobsters. One just cannot stop salivating when walking the streets of Kerala. Inspired by a fusion of Malabari, French, and Arabian influences and enhanced with a touch of Kerala's unique culture, each dish in the state is an experience in itself that will leave you asking for more. While in Kerala, book your stay at Club Mahindra Munnar, which offers a panoramic view of the surrounding tea estates, the picturesque lake, and the mist-clad mountains. You can also opt for Club Mahindra Thekkady, which is at an altitude of 2,700 feet above sea level and is built in traditional Indian 'machan' style, nestles within a thickly wooded plantation of coffee, cardamom, pepper as well as teak and fruit trees.
Uttarakhand: The cuisine of Uttarakhand is similar to its people, simple yet incredible. Uttarakhand is famous for the perfect use of the Panch Phoron or the five spices. While having a joyful trip to the famous hill stations of Uttarakhand, you will eventually be welcomed with the aromatic flavours of the famous Panch Phoron and you will feel their presence in the traditional food of Uttarakhand. Choose to complete this perfect trip with you stay at Club Mahindra Corbett, which is situated adjacent the National Park and makes for a great trip.
Rajasthan: Rajasthani cuisine is rich, colourful and unique just like its culture. Milk, lots of clarified butter (ghee) and local spices are the prerequisites of many local dishes. From tangy veggie curries & spicy meats to yummy desserts, food of Rajasthan is for all. As an iconic traditional food of Rajasthan, Dal Bati Churma is a hot favourite not only amongst the native people but also among the tourists. The lip-smacking dish comprises of a sumptuous combination of baked bati, dipped in ghee, panchmel or panchkuti dal, and jaggery mixed churma. You can choose to complete this perfect trip with Club Mahindra Udaipur, which is Set in lush, landscaped gardens and surrounded by hills and grassland Offering unparalleled accommodation, exotic dining, and fabulous leisure facilities.