Its homeware line is now available in 32 markets and this is the first time it will be sold outside Europe.


Mango Home's entrance in the United States is part of the expansion plan that Mango is implementing in the country.


Mango Home was created in 2021 to satisfy its customers' demand for homeware products.
Barcelona – WEBWIRE – Friday, May 6, 2022
Mango, one of Europe's leading fashion groups, is entering the United States homeware market.Through Mango Home, the company's homeware essentials line, the company has added to the American version of its website the sale of its textile products for the bedroom, living room, bathroom, kitchen and dining room, as well as other items for the main rooms of the home.
With its launch in North America, this is the first time its Home line has gone on sale outside Europe, and Mango Home is now available in 32 markets. Until now, it has been on sale mainly via its online platform Mango.com in markets such as Spain, France, Germany, the United Kingdom, Portugal, Italy, Belgium, Switzerland, Greece, Romania, Croatia, Austria, Ireland, Sweden, the Czech Republic and Denmark, among others.
"Entering the United States homeware market is a significant step forward in our strategy to diversify our business, and at the same time strengthen our international expansion plan in one of the most strategic markets for the company", Laura Vila, Mango Home Director, points out.
Throughout 2022, Mango Home aims at consolidating its brand in markets where it is already present, especially Europe and the United States.In Spain, its biggest market, the line will open new corners in some of Mango's key stores.
As part of its commitment towards sustainability, Mango Home plans to increase the percentage of sustainable items manufactured in local markets in its collection.At present, 80% of the Home collection is considered sustainable and 65% of its items are manufactured in nearby countries.
Mango launched Home in 2021 to satisfy its customers' demand for homeware products.The homeware line of products and items currently includes close to one thousand textile items and objects, featuring natural textiles, relaxed colours and sustainable materials inspired by Mediterranean culture and lifestyle.  
Mango in the United States
The launch of Mango Home in the United States homeware market is part of the expansion plan the company is implementing in the country. 
Mango has been present in the United States since 2006. The company strengthened its commitment to the North American market in late 2017 with the refurbishment of the SoHo store and with the agreement with Macy's in 2019 to accelerate the firm's online growth in the country.
In 2021, Mango opened four new stores in the country, specifically in the Menlo Park and American Dream shopping centres, both in New Jersey, and in the Roosevelt Field shopping centre in New York and the Dadeland shopping centre in Miami, Florida.
Between 2022 and 2024 the company will continue its expansion plan in the country, in order to position the brand in the North American market.During the first half of this year, Mango will open a new 2,100 m2 flagship store on New York's Fifth Avenue, one of the city's main streets.
Mango is one of Europe's leading fashion companies, with design, creativity and technology at the centre of its business model, and a strategy based on constant innovation, the search for sustainability and a complete ecosystem of channels and partners.Founded in Barcelona in 1984, the company closed 2021 with a turnover of 2.234 billion euros, with 42% of its business originating from its online channel and with a presence in over 110 markets. More information at www.mango.com
India has been able to boost mango exports this season,especially from the non-traditional northern and eastern regions of the country, notwithstanding logistical challenges posed by COVID19 pandemic.
As part of this initiative, APEDA in collaboration with India embassy and the importer LuLu group, today organised a mango promotion programme in Dubai for varieties from northern India. Juicy varieties including Chausa&Langra, sourced in collaboration with Uttar Pradesh mandi board, is being displayed in United Arab Emirates.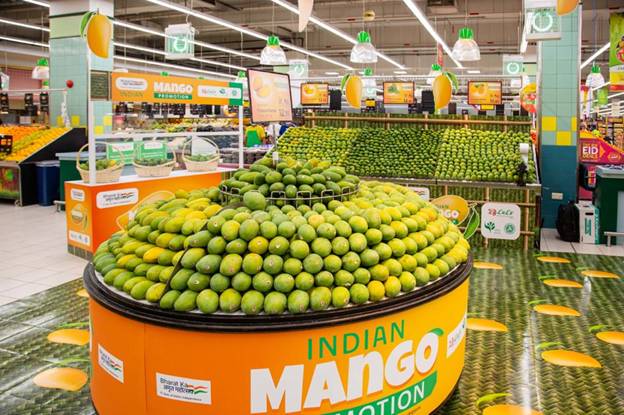 Recently, for boosting mango export potential from the eastern region especially to middle east countries, a consignment of Geographical Identification (GI) certified Fazil mango variety from Malda district of West Bengal was exported to Bahrain.The consignment of Fazil mango was exported by APEDA registered DM enterprises, Kolkata and imported by Al Jazira group, Bahrain.
 APEDA has been initiating measures to boost mango exports from the non-traditional regions and states. APEDA has been conducting virtual buyer-seller meets and festivals to promote mango exports.
 APEDA recently organized a mango promotion programme at Doha, Qatar where nine varieties of mangoes including GI certified from West Bengal & Uttar Pradesh were displayed at the stores of importer Family Food Centre.
 The nine varieties which were exported includes GI certified Khirsapati (Malda, West Bengal), Lakkhanbhog (Malda, West Bengal), Fazli (Malda, West Bengal), Dusshheri (Malihabad, Uttar Pradesh) and Amrapali and Chausa (Malda, West Bengal) and Langda (Nadiya, West Bengal).
 In June, 2021, a week-long Indian mango promotion programme was organised in Bahrain where 16 varieties of the fruit including three GI certified Khirsapati&Lakshmanbhog (West Bengal), Zardalu (Bihar) were displayed. The varieties of mangoes were sold through 13 stores of the group in Bahrain. The mangoes were sourced from farmers in Bengal and Bihar by APEDA registered exporter.
APEDA organised mango festival in Berlin, Germany
In a bid to increase mangoes exports to South Korea, APEDA in collaboration with Indian embassy, Seoul and Indian Chamber of Commerce in Korea, had earlier organised a Virtual Buyer Seller Meet.
For the first time in this season, India has shipped a consignment of 2.5 Metric Tonne (MTs) of GI certified Banganapalli& other variety Survarnarekha mangoes sourced from farmers in Krishna &Chittor districts of Andhra Pradesh to South Korea.
Mango in India is also referred to as 'king of fruits' and referred to as Kalpavriksha (wish granting tree) in ancient scriptures. While most of the states in India have mango plantations, Uttar Pradesh, Bihar, Andhra Pradesh, Telangana, Karnataka have a major share in total production of the fruit.
Alphonso, Kesar, Totapuri and Banganpalli are leading export varieties from India. Mango exports primarily take place in three forms: fresh mango, mango pulp, and mango slice.
YB
*****
(Release ID: 1735899)
Visitor Counter : 1449



Read this release in:
Tamil