As the international art world once again descends upon Miami Beach, all eyes will be on the blue-chip group exhibition "Commercial A. F." curated by Trever Andrews a.k.a. Gucci Ghost and Valeray Francisco. Nautilus by Arlo has set the stage for an immersive installation throughout the property debuting on Wednesday, December 1st, and running through Sunday, December 5th, 2022.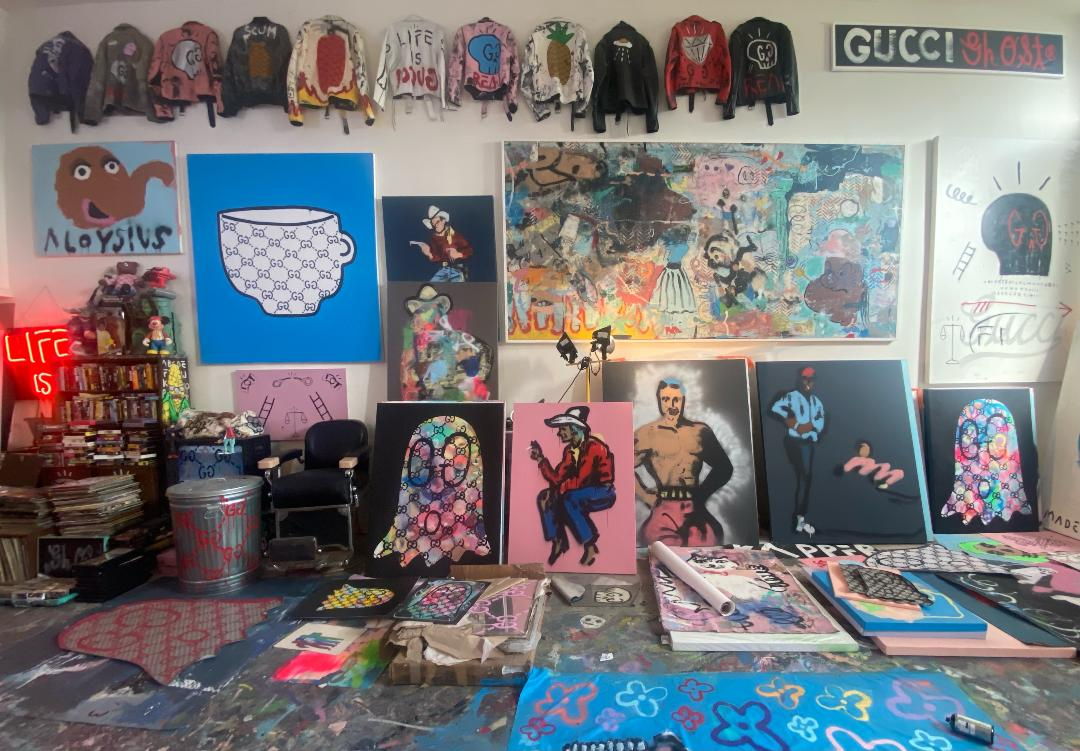 Gucci Ghost will be taking over every element of the hotel, from the art deco property's entryway to a fantastic over-the-pool interactive display. Casper the Friendly Ghost will lead guests to unexpected whimsy as they explore deeper into Gucci Ghost's world. As part of the installation, Gucci Ghost has curated a group of artists showing their range of artworks exploring the concept of commercialism. Each artist engages with the idea that the acquisition or ownership of goods reflects status and self-identity. The artworks also investigate or criticize this idea in a variety of ways – featuring consumable goods, sites of consumption, the acquisition of goods, or advertising imagery in each piece.
Art categories will include advertising and brands, 1970-present, single object, popular culture, Kitsch, contemporary conceptualism, contemporary re-creations, humor, figurative sculpture, and typologies. VIPs will be invited to the "Gucci Ghost Studio," a private hotel suite where collectors can purchase original pieces of art that are unique amongst Gucci Ghost's repertoire of work.
The exhibiting artists will include Ron English, Lucia Hierro, Kosuke Kawamura, HDIJIworld – 
Willshott, DrewToonz, Instastupid aka Jake Lamagno, Ldjnegron, Huey Crowley aka Roof Legend, 
Jahlilzinga, Scooter La Forge, Playerunderpressure, Megan Barnes, Bambambaklava aka Action Bronson, Alphonsorawls, Crispy.tostones aka Liam Cotti, Shirtkingphade, Jamesconcannonart, Ari/Ari Sall Forman, and Blizzedout917.
Additional open-to-the-public activations found at Nautilus by Arlo include:
·        Live Installation: "Let That Boy Cook" (Dec. 1-5)
o   Based around pop culture branding of the fast-food generation, the site-specific installation will be a microwave measuring 13ft high x 22 ft long x 16 ft deep. A symbol of convenience, "Let That Boy Cook" pays homage to American rapper Lil B (@lilbisgod). People will be able to walk inside the structure and experience six new NFT's that have been "cooking," including an exclusive NFT from Snoop Dog and Gucci Ghost that will be activated on Saturday, December 4
o   All NFTs will be available for purchase via cryptocurrency, a rising trend in the world of high art.
o   Beginning at 7:00 p.m. each evening, the microwave will be used as a stage for a variety of performances.
o   Interactive Art: Mechanical Claw Art Grab Dec 1-5
o   With five dollars and a bit of luck, Art Basel attendees can snag themselves an original piece of art valued starting at $1K with an oversized mechanical claw game in Nautilus by Arlo's bodega.
o   A pop-up shop with limited edition prints from each showing artist related to the show's consumerism theme will also be available on the property through February 2022
o   Live Art: Originals Art Work Series Dec 1-5
o   A new Originals Art Work Series will be displayed on paint cans, milk cartons and trash bins throughout the hotel.
o   Paint-stained canvas and Krink art supplies will pile at viewers' feet while they watch the freshly painted artworks dry.
Nautilus by Arlo is located at 1825 Collins Avenue; for more information please go to www.artnfolly.com.
For further information, image requests and/or press RVSPs, please email: [email protected]maverickcreative.us.