Warner Music Artists Granted Early Access to Blockparty's NFT Tools, As First Major Label Partnership
WEBWIRE – Friday, January 21, 2022
Digital collectibles platform Blockparty today announced its first major label partnership with Warner Music Group (WMG), granting WMG artists access to cutting-edge Web3 technology in the world of non-fungible tokens (NFTs). The collaboration enables Warner Music artists to be among the very first creators to leverage Blockparty's decentralized exchange (DEX), a community-focused trading platform that allows collectors to swap digital assets in a way that hasn't existed until now.
For the first time ever, with Blockparty's DEX, artists and creators will have the opportunity to participate in NFT swaps. Those using the DEX have the option to bundle-sell their NFTs, where they can combine existing NFTs to swap, trade, or sell. By cutting out the middleman, creators, artists, collectors, and fans alike can now connect directly like never before through this unique experience.
"We're elated to be working with Warner Music Group, a company that continues to sit on the edge of technological and entertainment-based innovation. We look forward to tapping into our expertise and creativity as we work with individual artists to ensure they have all of the tools they need to participate in Web3 and do so in ways that are unique to them, their brand, and their communities," says Vladislav Ginzburg, CEO of Blockparty. "Early access to our DEX will give WMG artists the ability to both expand their audience to reach Web3 enthusiasts, and foster deeper connections with their existing community by amplifying fan experiences."
Oana Ruxandra, Chief Digital Officer & EVP, Business Development, WMG adds: "As technology and consumption patterns evolve, it's imperative that we equip our artists and songwriters with all of the tools they need to participate in the virtual economy. This partnership with Blockparty furthers WMG's Web3 reach by empowering artists and songwriters to craft their own digital stories through NFTs."
Driving the collaboration forward is the first NFT drop with Warner Music Finland's superstar STIG, who's releasing a series of NFTs. As an artist who is familiar with the blockchain landscape, STIG is planning to use these tools to launch NFTs that capture his iconic moustache and array of trendy 5 panel caps – a nod to wearables found in the metaverse and his ambitions to participate within it.
To learn more about how Blockparty is connecting communities with the artists, creators, and the brands they love, visit https://www.blockparty.co/.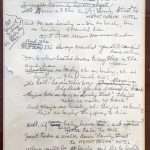 Lynbrook, NY, USA, October 24, 2020 — The original handwritten lyrics to the classic 1956 Elvis Presley hit song Heartbreak Hotel, a copy of Yoko Ono's book Grapefruit signed by John Lennon and twice signed by Yoko, a rare Titanic item with a reference to the American businessman John Jacob Astor, and a scarce and highly collectible Pokémon trading card will all come up for bid in Weiss Auctions' major online-only auction planned for November 19th-20th at 10 am Eastern both days.

The Thursday-Friday auction will have Internet bidding available through LiveAuctioneers.com and Invaluable.com. Telephone and absentee bids will also be accepted. The Thursday, November 19th session will feature sports, comics and comic art. The Friday session will contain rock 'n' roll memorabilia, Hollywood collectibles, advertising items and historical memorabilia.

Heartbreak Hotel was written in October 1955 by Mae Boren Axton, a high school teacher with a background in musical promotion, and Tommy Durden, a Jacksonville singer-songwriter. The lyrics were inspired by a newspaper account of a man who committed suicide by jumping to his death from a hotel window, leaving a note that said, "I walk a lonely street." Axton presented the song to Presley and he loved it, recording the hit in January 1956 for his new label, RCA Victor. Axton and Durden's signed lyrics, in pencil with corrections, is a rare slice of rock'n'roll history.

Grapefruit is an artist's book written by Yoko Ono and originally published in 1964. It has become famous as an early example of conceptual art, containing a series of "event scores" that replace the physical works of art (the traditional stock-in-trade of artists) with instructions that an individual may, or may not, wish to enact. The book would be rare and valuable by itself, but the fact that this copy was signed by John Lennon and signed and inscribed by Yoko ups its value.

The Titanic artifact is a Record of Bodies and Effects of the passengers and crew, including Bodies Buried at Sea and Bodies Delivered at Morgue in Halifax (Nova Scotia). This is a list of the 306 bodies that were recovered after a seven-day operation of the cable steamer Mackay-Bennett. Of the 306 bodies, 116 were buried at sea, 190 were on board and delivered to the morgue in Halifax and 56 bodies were identified. On this list is John Jacob Astor (body No.124).

The Thursday, November 19th session, with a 10 am Eastern start time, will feature 500 lots of interesting, fresh-to-the-market material. Included will be a terrific selection of comics in both single and group lots, as well as CBCS graded examples. Key books include Archie #1 (1942, CBCS 5.0); PEP Comics #36 (1943, CBCS 7.0) and #42 (1943, CBCS 5.0); Fantastic Four #1 (1961, CBCS 7.0); Batman #23 (1944, CBCS 8.0); and Jackpot Comics #4 (1941, CBCS 5.5).

Additional key books include Walt Disney's Donald Duck #178, four-color (1947, CBCS 7.0); Shield-Wizard #1 (1941, CBCS 8.0); and Batman #31 (1945, CBCS 8.0). Also offered will be a super rare first-issue copy of the spicy pulp book Cupid's Capers (Vol. 1, No. 1, 1933); a 1940 Mushroom Dancers production cel from the Disney movie Fantasia ("Nutcracker Suite"); and a 1966 production cel for How the Grinch Stole Christmas signed by legendary artist Chuck Jones.

Sports will be headlined by a 2013-2014 Select Silver Prizm #178 Giannis Antetokounmpo RC rookie basketball card, graded PSA 10 Gem Mint, the highest PSA grade. A similar card sold on eBay in August for $12,000. Antetokounmpo, 25, is a superstar player for the Milwaukee Bucks. He was born in Athens, Greece to Nigerian parents. He's affectionately called the 'Greek Freak'.

Also sold will be a Michael Jordan 1986-87 Fleer rookie card (GAI 5.5, EX+); a Michael Jordan signed Chicago Bulls "retirement' jersey; a serigraph of Mickey Mantle signed by artist LeRoy Neiman; a serigraph of Mark McGwire signed by Neiman and McGwire; a Joe Namath signed New York Jets jersey; and a 1999 New York Yankees jersey signed by about 19 team members.

Other star lots set to cross the auction block on Thursday include a rare Pokémon Black Star promotional Ishihara GX trading card graded PSA 8, only the fourth copy ever to come to market; a pulp cover illustration of a cowboy riding a horse in winter by Remington Schuyler; a Buster Brown Sunday art page by Richard Outcault; a Peanuts original daily comic strip art by Charles Schulz from 1952, featuring Fort Snoopy and Schroeder; a hand-colored Krazy Kat daily comic strip by George Herriman; and a 1950s/'60s Disney Three Little Pigs carousel ride figure.

The Friday, November 20th session (headlined by the Heartbreak Hotel lyrics and signed copy of Grapefruit) will also feature Bruce Springsteen and Bob Dylan signed albums, with both having certificates of authenticity; a signed Bruce Springsteen "Rosalita" tour jacket; a collection of signed checks (including ones from Marilyn Monroe, George Harrison, Orville Wright, Chester A. Arthur and Benjamin Harrison); and a copy of Playboy magazine signed by Donald Trump.

Friday will also feature a Vendo 44 Coca-Cola bottle coin-op vending machine; a vintage Paidar electric barber pole, 80 inches tall; a Charles Lindbergh signed postal cover; presidential signatures and documents; a private collection of Civil War documents and paraphernalia relating to the 14th Brooklyn Regiment, to include an important presentation sword; a collection of Theodore Roosevelt material, including signed documents, political buttons and banners; Part 1 of a vintage, 12,000-piece collection of 1930s-'50s Western lobby cards; and other rare items.

For more information about Weiss Auctions and the big auction slated for November 19th-20th, visit www.WeissAuctions.com. Updates are posted often.

About Weiss Auctions:
Weiss Auctions is always accepting quality consignments for future auctions. To consign an item, estate or a collection, you may call them at (516) 594-0731; or, you can send an e-mail to Philip Weiss at Phil@WeissAuctions.com. For more information, visit www.WeissAuctions.com. Updates are posted often.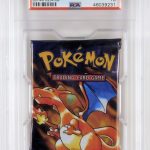 Cranston, RI, USA, September 30, 2020 — Rare vintage comic books, Pokémon collectibles, toys and dolls will all share center stage in Bruneau & Co. Auctioneers' next major auction, planned for Saturday, October 17th, at 10 am Eastern, online and live in the Cranston gallery. Limited in-house seating is by appointment only for active bidders. They can reserve a seat by calling 401-533-9980.

"This auction is definitely filled with all forms of Pop Culture goodness," said Travis Landry, a Bruneau & Co. auctioneer and the firm's Director of Pop Culture. "The comic selection offers affordable copies of important key issues, including Amazing Spider-Man #1 and Journey Into Mystery #83. The Pokémon too is going to be a surprise. The complete set of all four Aquapolis packs in Gem 10 condition are going to drive people crazy. It's going to be a real fun auction."

Bruneau & Co. president Kevin Bruneau added, "The toy auction always brings fun to the gallery. This is the first time we include contemporary and designer dolls into the catalog and I'm sure they'll attract interest. It's not every day a collection that large pops up on the market for auction." All categories combined – comics, Pokémon, toys and dolls – total over 575 lots.

Comic book collectors will be dazzled by the selection on offer. The copy of Marvel Comics Amazing Spider-Man #1 (March 1963) is graded CGC 1.0, with cream and off-white pages, and has an estimate of $1,500-$2,500. The book features the second appearance of Spider-Man, the first appearance of J. Jonah Jameson and Chameleon, and the first Fantastic Four crossover.

The copy of Marvel Comics Journey Into Mystery #83 (Aug. 1962), featuring the origin and first appearance of Thor, graded CGC 1.8, with off-white pages, carries an estimate of $2,000-$3,000.

A copy of Timely Comics Human Torch #32 (Sept. 1948), featuring a Sub-Mariner back-up story and appearances from Sun Girl and Namora, graded CGC 4.5, should hit $1,000-$1,500.

A copy of Marvel Comics Amazing Spider-Man #300 (May 1988), featuring the origin and first full appearance of Venom, and the last time Spider-Man was depicted in a black costume, graded 9.8, with white pages, is expected to realize $1,800-$2,400. All comics are contained in cases.

The Pokémon collectibles represent a category that's so young and unpredictable, none of the lots have set estimates. They show in the catalog, for appearance sake, as being $20-$10,000.

Pokémon lots expected to do well include a year 2000 Korean Pokémon 1st edition Charizard holographic trading card, graded PSA Mint 9; a group of three1999 Pokémon Base Unlimited holographic trading cards – Blastoise, Charizard and Venusaur – all graded well at BGS 9 Mint.

Other noteworthy Pokémon lots include a 1999 Wizards of the Coast Pokémon base set Charizard trading card foil pack, graded PSA 10 Gem Mint; and a 2003 Wizards of the Coast Pokémon Aquapolis Entei trading card foil pack, also with a tip-top grade of PSA 10 Gem Mint.

Pokémon has been such a huge phenomenon in the collecting universe, it's hard to believe it's only been around since 1995. The franchise was created by Satoshi Tajiri in Japan (where, it's interesting to note, Pokémon is also known as Pocket Monsters) and is managed by the Pokémon Company, founded by Nintendo, Game Freak and Creatures (names familiar to all gamers).

Pokémon is centered on fictional creatures called "Pokémon", which humans (known as Pokémon Trainers) catch and train to battle each other for sport. Works within the franchise are set in the Pokémon universe. The English slogan for the franchise is "Gotta Catch 'Em All". The Pokémon Red and Blue video games for the Nintendo Game Boy system came out in 1996.

Pokémon very quickly grew into a media mix franchise, adapted into various different media, and is now the highest-grossing media franchise of all time, with $90 billion in total revenue. It spawned a hit anime TV series with a hugely successful video game adaptation and, as any collector will tell you, is also into toys, trading cards, books, manga comics and other items.

Previews will be held on Wednesday and Thursday, October 14th and 15th, from 9 am-4 pm Eastern time, by appointment only. To schedule an appointment, call 401-533-9980. Masks will be required at all times, per strict adherence to CDC and Rhode Island state guidelines. Please, only reserve appointment seats for serious, active bidders, as there is limited seating available.

The Bruneau & Co. gallery is located at 63 Fourth Avenue in Cranston, R.I. (zip code: 02910).

Internet bidding will be facilitated by LiveAuctioneers.com, Invaluable.com, Bidsquare.com and bidLIVE.Bruneauandco.com, plus the mobile app "Bruneau & Co." on iTunes or GooglePlay.

Bruneau & Co. Auctioneers is always accepting quality consignments for future auctions, with commissions as low as zero percent. Now would be a perfect time to clean out your attic. To contact Bruneau & Co. Auctioneers about consigning a single piece or an entire collection, you may send an e-mail to info@bruneauandco.com. Or, you can phone them at 401-533-9980.

To learn more about Bruneau & Co. Auctioneers and the Comic, Pokémon, Toys & Dolls auction on Saturday, October 17th, visit www.bruneauandco.com. Updates are posted often.

About Bruneau & Co. Auctioneers:
Established in 2015 by owner Kevin Bruneau, Bruneau & Co. Auctioneers is an energetic and young auction house built on the backbone of over fifty years of combined experience in the antiques and auction world. Bruneau & Co. believes in bridging the gap between antique and contemporary utilizing modern day methods to market history in a fast-paced, ever-changing world. We take pride in orchestrating specialty and single owner catalogs giving proper and factual representation of any and all "cool" items of value. As a multifaceted company our expertise goes beyond the traditional antique; we follow market trends and bring to light what the public calls for. From its beginning, Bruneau & Co. has been partnered with Altered Reality Entertainment, parent company of Rhode Island Comic Con in organizing toy, comic, and collectible auctions bringing Pop Culture to a live auction environment. Our focus on emerging markets extends to contemporary and urban art, modern design, and Asian arts. To learn more, visit www.bruneauandco.com.