Sharm El Sheikh, Egypt, Sept 29, 2023 – (ACN Newswire) – PT PLN (Persero), Asian Infrastructure Investment Bank (AIIB) and PT Sarana Multi Infrastruktur (PT SMI) signed partnership documents formalizing their commitment to work together towards achieving Indonesia's greenhouse gas reduction target. The agreement signed on the sidelines of the 2023 Annual Meeting in Sharm El Sheik, Egypt Tuesday, (26/9) to work together to reduce Indonesia's greenhouse gas (GHG) emissions. Minister of Finance Indonesia, Sri Mulyani remarked that holistic growth required energy supplies. Responding the need for renewable energy necessitates support and cooperation in providing adequate resources. 
"This is necessary for private sector participation in funding the climate agenda. This is a step that we are excited to share with you and AIIB in order to discover solutions. As a cleaner, greener, and leaner financial institution," Sri Mulyani said. 
President Director of PLN, Darmawan Prasodjo stated that collaboration and partnerships are critical to advancing Indonesia's energy transformation. As a result, PLN is going to keep maintaining the relationship with diverse stakeholders with the goal to realize the energy transition from conventional to new, renewable, and sustainable energy. 
"Of course, financial support is crucial for accelerating Indonesia's energy transition. This partnership is certain to reflect PLN's objective of boosting the share of renewable energy in Indonesia's energy mix," mentioned Darmawan. 
Darmawan stated that over the previous 3,5 years, PLN has transformed into a greener electricity provider based on new renewable energy (NRE). The corporation began by developing a greener Electric Power Supply Business Plan and cancelling as much as 13,3 Gigawatt (GW) of coal-based power plants from 2019 – 2028 electricity plan. Aside from that, PLN's entire commitment to the energy transition is continuing with the planning of the national power plan, which includes 51,6% of NRE power generation. 
PLN continues to innovate and do various breakthroughs to develop NRE up to 75% in 2040. "In addition, we are committed to executing the Net Zero Emissions target by the year 2060, PLN is now focusing not only on providing electricity but also on the environment," Darmawan explained.
According to AIIB President Jin Liqun, the goal of this partnership is to help Indonesia transition to sustainable development and solve climate change challenges. Jin Liqun believes that this collaboration will push Indonesia to become a leader in the region's energy transition from fossil-based to new renewable energy. 
"This is a crucial decade for climate change action. By collaborating with major energy players in Indonesia, AIIB intends to unlock and mobilize additional capital to increase access to environmentally friendly energy in Southeast Asia's largest economy," Jin Liqun said. 
He stated that the AIIB intends to provide long-term finance to assist the Indonesian government in implementing the transition to low-carbon energy. This funding is intended to supplement existing national and multinational efforts, such as the cooperation with JET-P, while pushing Indonesia to pursue a complete and integrated energy transition strategy.
Furthermore, following the signature of the partnership agreement, AIIB, PLN, and SMI will investigate potential for project preparation, knowledge exchange, capacity building, and technical assistance in the sphere of energy transition.
"By leveraging each other's technical expertise and financial resources, the three institutions are committed to accelerating the implementation of environmentally friendly energy technologies and contributing to a greener and more sustainable future for Indonesia and the rest of the world," Jin Liqun said.
-Antara

Topic: Press release summary
Mitsubishi Heavy Industries, Ltd. (MHI) has concluded a General License Agreement (GLA) with Saipem S.p.A., one of major engineering companies in Italy, under which MHI will provide Saipem with its proprietary "KM CDR Process" and "Advanced KM CDR Process" technologies for use in CO2 capture plants. Both technologies were jointly developed with The Kansai Electric Power Co., Inc.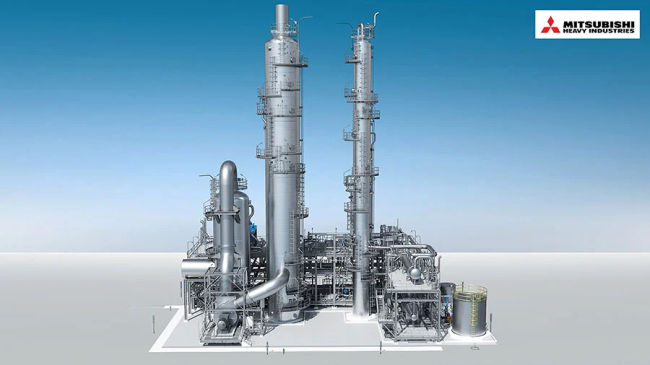 CO2 Capture Plant (conceptual image)
Saipem is a leading global solution provider that performs engineering, procurement, construction and project management in the energy and infrastructure sector. With bases in more than 70 countries, the company possesses advanced, innovative engineering technologies and has a solid track record in completed deliveries. MHI has had a cooperative relationship with Saipem for many years relating to the latter's Snamprogetti Urea technology, resulting in construction of world-class scale fertilizer plants. Now, through the collaboration in CCUS (Carbon Capture, Utilization and Storage), a structure is in place enabling execution of CO2 capture plants making use of the two partners' respective strengths.
The strategic new tie-up is aimed at expanding sales of CO2 capture plants to Saipem's core business fields especially in Europe and the Middle East, where demand of decarbonization would be increasing in the years ahead. With ability to accommodate numerous projects, MHI looks to ensure a leading position in the developing global CCUS market. The newly expanded collaboration with Saipem can be expected to further advance MHI's global CCUS strategy in addition to other partnerships MHI has formed over the years globally.
Fabrizio Botta, Saipem's Chief Commercial Officer, commented: "This agreement, signed with a key partner such as Mitsubishi Heavy Industries, allows Saipem to combine its expertise and track-record in designing and building Upstream, Mid-stream and Downstream facilities with the most advance post-combustion technology for large plants. This enables Saipem to further consolidate its position and expand its portfolio of solutions in the decarbonisation sector."
Kenji Terasawa, CEO and Head of Engineering Solutions said: "We are pleased to be partnering with Saipem, with whom we have had a longstanding relationship in other fields, in the CO2 capture business. With this agreement, we would like to collaborate with Saipem for numerous projects in Europe and the Middle East etc., to lead a global CCUS market growth as an innovative solutions provider. We will accelerate the CO2 capture business and create CCUS value chain in order to achieve a carbon neutral society."
MHI has declared MISSION NET ZERO to achieve carbon neutrality by 2040, and the Company is now undertaking strategic initiatives toward decarbonizing the energy supply side. Core among those efforts is the development of a CO2 solutions ecosystem, which links diverse carbon emission sources with storage and utilization. Going forward, the Company's Engineering Solutions integrated into MHI in this April and possesses proprietary CO2 capture technologies, will vigorously advance MHI Group's CCUS operations, and contribute to reducing greenhouse gases on global scale. MHI will also press ahead in developing new solutions to contribute to global environmental protection.
About MHI Group's CO2 capture technologies
MHI has been developing the KM CDR Process (Kansai Mitsubishi Carbon Dioxide Recovery Process) and Advanced KM CDR Process in collaboration with Kansai Electric Power since 1990. As of April 2023, the Company has delivered 15 plants adopting the KM CDR Process, and three more are currently under construction. The Advanced KM CDR Process uses KS-21, which incorporates technological improvements over the amine-based KS-1 solvent adopted at all 15 of the commercial CO2 capture plants MHI has delivered to date. The advanced version offers superior regeneration efficiency and lower deterioration than the KS-1, and it has been verified to provide excellent energy saving performance, reduce operating costs, and result in low amine emissions.
For further information on MHI's CO2 capture plants: www.mhi.com/products/engineering/co2plants.html
About MHI Group
Mitsubishi Heavy Industries (MHI) Group is one of the world's leading industrial groups, spanning energy, smart infrastructure, industrial machinery, aerospace and defense. MHI Group combines cutting-edge technology with deep experience to deliver innovative, integrated solutions that help to realize a carbon neutral world, improve the quality of life and ensure a safer world. For more information, please visit www.mhi.com or follow our insights and stories on spectra.mhi.com.