The Australian carrier will be using Sabre Revenue Optimizer to support decision-making with real-time data analytics as Australia welcomes back international travelers
SOUTHLAKE, TEXAS, SINGAPORE and BRISBANE – WEBWIRE – Tuesday, April 26, 2022
Sabre Corporation (NASDAQ: SABR), a leading software and technology provider that powers the global travel industry, today announced that Virgin Australia is migrating to Sabre's Revenue Optimizer solution to enable optimal pricing decisions and drive total revenue optimization to respond dynamically to today's fluid travel environment.  
While previously, airline pricing and availability planning has typically relied on historical data, the pandemic has resulted in unprecedented changes to the global travel marketplace, making past patterns much less reliable. Sabre Revenue Optimizer will enable Virgin Australia to take a 360-approach to forecasting, analyzing and optimizing revenue streams by providing real-time visibility into the total revenue of every flight, market and departure date.   
Currently, the Brisbane-headquartered carrier is using a number of different systems in its revenue optimization strategy. The airline will be moving to Sabre Revenue Optimizer to drive its technological transformation and break down data silos to enable it to leverage intelligent decision support to recommend availability, customer choice-based demand forecasting and competitive intelligence. 
"We're delighted to be advancing our technology with Sabre at this key time for travel industry recovery in Australia and beyond," said Virgin Australia Group Chief Commercial Officer, Dave Emerson. "As we continue to ramp up our operations following the easing of Australian domestic and international travel restrictions, it's more important than ever that we can understand evolving booking behaviors across our network with customer-centric, real-time data analytics that give us the power to make sophisticated decisions, so we are able to seize recovery opportunities." 
Virgin Australia is the largest airline by fleet size to use the Virgin brand and has a strong domestic Australian network as well as its own short haul international services to Fiji, with more international services planned across the year. Virgin Australia Group has also expanded its international network through partnerships with leading global airlines, building an enviable international network in the process.  
"As soon as borders opened in Australia, our Sabre booking data showed an immediate surge in bookings as people, unable to travel for the past two years, immediately started to make plans. So, we're thrilled to announce this new agreement with Virgin Australia at this important milestone in industry recovery," said Rakesh Narayanan, Vice President, Regional General Manager, Travel Solutions Airline Sales, Sabre. "As a scalable Cloud-native solution, our Revenue Optimizer will help to seamlessly support the future of dynamic pricing for Virgin Australia to capture opportunities as we move ahead with further industry recovery."
About Sabre Corporation    
Sabre Corporation is a leading software and technology company that powers the global travel industry, serving a wide range of travel companies including airlines, hoteliers, travel agencies and other suppliers. The company provides retailing, distribution and fulfilment solutions that help its customers operate more efficiently, drive revenue and offer personalized traveler experiences. Through its leading travel marketplace, Sabre connects travel suppliers with buyers from around the globe. Sabre's technology platform manages more than $260B worth of global travel spend annually. Headquartered in Southlake, Texas, USA, Sabre serves customers in more than 160 countries around the world. For more information visit www.sabre.com.    
About Virgin Australia: 
Virgin Australia Group is a major Australian airline headquartered in Brisbane, Australia. The company operates scheduled domestic and short-haul international flights, charter and cargo services, and the award-winning loyalty program Velocity Frequent Flyer. The Group has been a competitor in the Australian aviation landscape for more than 20 years. We're a winning team and we attract the best: challengers, innovators, and seriously fun individuals with big hearts. At Virgin Australia Group, we pride ourselves on recruiting the right people to join our team and help us rise to the challenges ahead. No matter our role – we are united by our ambition to be the most loved airline in Australia, and always go one step further for our customers, colleagues, and our wider community.  For more information visit www.virginaustralia.com. 



Shri Piyush Goyal, India's Minister of Commerce and Industry, Consumer Affairs, Food, and Public Distribution and Textiles and The Hon Dan Tehan MP, Minister for Trade, Tourism and Investment, Government of Australia have announced reaching an understanding on the Interim agreement and finalizing it in the next 30 days.  The India-Australia Comprehensive Economic Cooperation Agreement (CECA) is expected to be concluded in 12 months thereafter. Shri Goyal and Mr. Tehan were addressing a joint press conference after conclusion of the 3-day talks in New Delhi today. 




Speaking on the occasion Shri Goyal recalled watching the classic movie 'Dil Chahta Hai', which was partially shot in Australia, and portrayed a strong bond of friendship among friends. He said expanding  India-Australia relationship also exhibits a similar strong bond.

CECA FTA is like a 'Dil Chahta Hai FTA', which represents the hope, aspiration & ambition of the people of our two great nations.




The two nations are expected to sign the Interim Agreement in March 2022.The areas covered under the interim agreement should include goods, services, rules of origin, sanitary and phytosanitary measures, Customs procedure, and Legal and Institutional issues. 




Speaking on the occasion, Shri Piyush Goyal said that he had very fruitful discussions with his Australian counterpart and significant progress has been made in advancing the FTA between the two nations. Shri Goyal said that India and Australia were natural partners and complemented each other in a variety of ways. The Minister said that discussions between the two nations happened with openness and concern and sensitivity for the issues on both sides.





Terming the negotiations as a watershed moment in India-Australia bilateral relationship, Shri Goyal expressed his gratitude to the Prime Ministers of both nations, Shri Narendra Modi and The Hon Scott Morrison for their leadership, guidance and support. He also complimented officers from both sides who worked proactively to build a comprehensive economic partnership which will be a win-win for both, opening up huge opportunities for people of India and Australia.





The Minister exhorted that India and Australia are linked by the great Indian Ocean; connected by history, shared inheritances and deeply interlinked destinies.





The CECA would be a substantial opportunity for both of economies and a significant moment in the India-Australia bilateral relationship.





Both Ministers agreed on the need for a balanced trade agreement that encourages expanded trade and investment flows to the benefit of both of the economies, and reflects a shared commitment to the rules-based international trading system. Ministers also agreed to expeditiously resolve tax-related issues faced by Indian software firms in Australia. 





Responding to a question, Shri Goyal said that Quad has brought the four countries, viz. USA, India, Australia and Japan closer and this had also enabled India and Australia to come closer to each other in economic relations as well. 




Mr. Dan Tehan also announced that on 21st February, Australia would be open to travelers from all over the world and extended his invitation to Indians to visit Australia. The Minister opined that as a result of MoU, the tourism flows between the two countries will continue to grow and that the education relationship between the two nations would also flourish.  We are looking at mutual recognition of qualifications in Australia so that students can now study in both nations, he said. 





Mr. Tehan expressed confidence that the interim agreement would be a significant milestone in relationship between our two countries. He said that the warmth of the relationship between the two nations and the honesty and transparency with which the negotiations happened would certainly help build a very strong and robust economic ties.




*****




DJN/AM/PK/MS






(Release ID: 1797796)
Visitor Counter : 524














Topelia Australia, a biotech company established to commercialise a novel ATT treatment for Australians in quarantine, has launched an investment program designed to keep the invention Australian owned – while rolling out treatment to the world.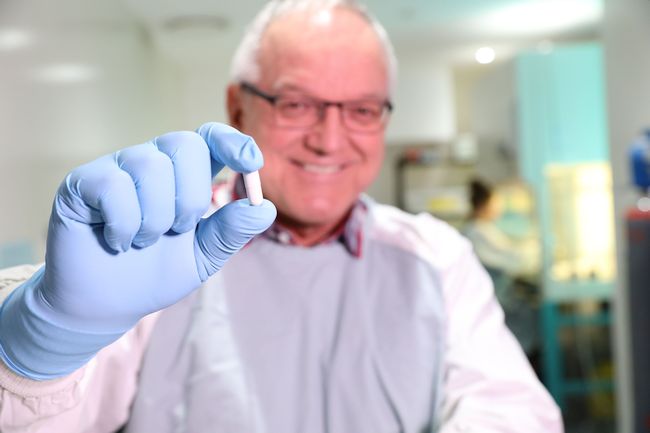 Prof Thomas Borody
– Topelia announces US$25 mil Series A capital raise to fund manufacture and clinical trials of the COVID-19 Antiviral Triple Therapy (ATT).
– Topelia has secured exclusive global patent rights to COVID-19 Antiviral Triple Therapy from Prof Thomas Borody.
– Borody's track record includes effective treatment for Peptic Ulcers & Crohn's Disease, recolonisation of bowel microbiome, and 3 FDA approved drugs on the market.
– Based on current research, the ATT provides an inexpensive and medically efficacious treatment for the prevention and early treatment of COVID-19.
The company is raising USD$25 million from investors in Australia, Asia and USA. The company said: "Topelia proposes to offer the ATT treatment alongside the current vaccination program to treat and vaccinate our way out of this pandemic. As Australia comes out of lockdowns and countries around the world experience spikes in cases, it is vital to fast-track the production of a safe early antiviral medical treatment kit.
The novel Antiviral Triple Therapy, to be branded as Ziverdox, comprises TGA-approved medications prescribed for decades with exceptional safety profiles. COVID-19 will be with us for some time so even vaccinated people with breakthrough Covid-19 infections can benefit from ATT to prevent long-COVID associated lung, brain and organ damage."
The company says it is pleased the Australian Government is supportive of early at-home treatments.
The Government has recently invested in an experimental early antiviral drug candidate which may be available early next year if the safety profile and clinical research allows for TGA approval.
Purpose of proposed Series A funding
The investment will finance:
– Preparation of a Literature-Based Submission to the TGA to gain approval;
– Clinical trials to prove efficacy of both treatment and prevention regimens;
– Sourcing of ATT components and manufacture of compliance enhancing packaging;
– Liaison with the TGA for marketing approval including TGA fees, consultant fees, scale-up of manufacturing and distribution costs;
– Following TGA approval, product launch costs for the ATT pack called Ziverdox.
About Topelia Aust Pty Ltd
Topelia Australia was founded based on the wealth of experience in commercialising the ground-breaking triple therapy cure for peptic ulcers which has saved over 18 thousand lives in Australia alone. This innovation has also saved the Australian Government more than $10 billion in medical costs associated with peptic ulcer surgery and hospitalisations. Professor Borody has more than 190 patents and applications, 3 FDA-approved drugs on the market, and more than 300 peer-reviewed papers published. Topelia Australia owns the patent rights to the novel Antiviral Triple Therapy. Visit https://TopeliaAustralia.com.
 Have you lost your job as a direct or indirect result of COVID-19? Are you thinking of going back to school to get a qualification, start a new career to get out of your present situation?
From 1 September 2021, Australia Immigration Specialist (AIS) shall launch a personalized Education and Career Counseling Services tailored to your personality type and interests.
During this 90 minute session, AIS' trained education and career consultants will examine your past qualification and work experience. AIS will perform an analysis of your needs, personality type, interests, and understanding the economy of the future, recommend a pathway for you to upskill your present situation or pursue a completely different career pathway based on getting yourself equipped and qualified to perform the skill.
For those who would prefer starting a business of your own, AIS' professional consultants also have years of business experience will share micro-financing secrets and suitable candidates may even participate in our guidance or mentorship program. However, if you intend on seeking a new life out of your present country and considering migrating to Australia and stating the obvious, AIS is a registered migration agency.
Choose a pathway leading to a happier and more secure future.
AIS understands that taking a big step towards a new career can be earth-shattering during this pandemic. One may feel like their skills are not in demand or that they are lacking significant experience. AIS aims not only to address migrants-to-be's concern about securing their future in Australia, but AIS will address the supply and demand sentiments lingering the job market, helping people intending to migrate to Australia from Singapore or elsewhere leverage their chances of a successful application. This expansion of service has allowed AIS to find avenue not only to widen its target audience, but at the same time extend its help to those who need guidance in paving their way through their immigration journey to Australia.
Since 2007, AIS has helped hundreds of clients who live in Singapore study, travel, live, and work in Australia. Being one of the most established Australia Migration Agencies in Singapore, AIS remains to strictly adhere to the Code of Conduct to ensure that all work is done professionally, transparently and competently.
For more information, please visit: https://www.ausimmigrate.com/
Australia Immigration Specialist Pte. Ltd.
Charmine Sum
+6562990246
https://www.ausimmigrate.com/

Contact