The arts non-fiction book is a composite of original watercolor paintings of horses created by the author-artist since 2007.
San Diego, California – WEBWIRE – Wednesday, October 26, 2022
Readers attended the book display for "Painting Horses" by Alice Daena at the 2022 ALA Annual Conference & Exhibition.
Alice Daena Hickey's "Painting Horses" (2020) should be of great interest to readers who love horses and/or taking up watercolor and canvas painting. The book is a collection of original horse paintings and includes watercolor paintings on canvas.


Alice Daena is an illustrator, artist, and author who has exhibited throughout the country and worldwide. She previously worked as a technical illustrator and college instructor. She has won a number of art competitions and even juried in shows across the United States and the world. Alice Daena is also a prolific author who has also written and illustrated hundreds of books.


Get a copy of "Painting Horses" by Alice Daena Hickey on Amazon.


To know more about the author's works, please visit her website at https://daenaarts.com/.


"Painting Horses" was displayed by self-publishing and book marketing company ReadersMagnet at their exhibit at booth 1147 for the 2022 American Library Association (ALA) Annual Conference & Exhibition last June 23-28, 2022, at the Walter E. Washington Convention Center, Washington D.C.
"Painting Horses"

Author | Alice Daena Hickey

Published date | July 16, 2020

Publisher | Self-published

Book retail price | $55.00


Author Bio


Alice Daena exhibits nationally and internationally across the United States. She has been exhibiting in New York since 2003 and has her work shown in Fons and Porter magazine and Art Acquisitor magazine in New York. Alice Daena has exhibited at three different galleries in New York.


She has also exhibited in Alaska, Texas, Oklahoma, California, and Arizona. Alice Daena's works have also been displayed in Prescott Magazine, Angels on Earth, and Better Homes and Gardens. She is a third-time winner of the Easter Seals Competition and a winner of at least ten Art Ribbons. She has her work in at least 200 private collections here in the United States. Her works hang at the Grand Hotel in Jerome, AZ, and a TV producer's home in New York, among many places.


Her paintings have created a fabric that was manufactured in London and sold across the world. She has produced 400 books in the last six months, which include anything from devotionals and children's books to her western art. All 400 books she self-published are illustration books made from the 7000 paintings she has produced in the last 15 years. Alice Daena worked as a technical illustrator for Motorola in Phoenix and taught art and technical illustration at Yavapai College in Prescott for ten years. Since moving to Clarkdale, Alice Daena has decided to put her paintings into book form. She has enjoyed being an author after working for many years as an artist. Her newest books are ''Trump Illustrated" and ''Ukraine Heroes."
Huntingdon, TN – WEBWIRE – Wednesday, September 7, 2022





The past will always be a complicated combination. Our life experiences serve as the basis for practically every significant component that makes up our current personalities. And for many people, coping with the past can be a difficult experience that is characterized by painful memories and past experiences.



Nobody wants to return to the darkness of domestic abuse. It is a grave betrayal that encompasses many different types of betrayal and would affect the victim's way of thinking. Marriage is an eternal commitment of love and trust. The two merged into one. Abuse is a serious act of conduct that betrays trust and may have a lasting impact on the victim.



Writing a memoir about these memories is a dauntless effort that benefits the writer and its readers.



In her memoir, "Syndrome of a Wife Batterer and Resounding Tribute to the Men Who Keep Their Vows," Alice Faye Wimberly writes about her experience of domestic abuse, with whom she chose to stay despite her abuser's lies and empty promises. It is not only a straightforward memoir that describes the difficulties of abuse. However, a narrative that educates readers about the signs and behaviors of abusers.



Some might wonder why the book's title is so long. The fact is that it's easy. The new husband of Alice Faye, who has been crucial in aiding her recovery, is also honored in this biography.



Buy the book at https://alicewimberly.com/buy-the-book/



"Syndrome of a Wife Batterer and Resounding Tribute to the Men Who Keep Their Vows"

Author: Alice Faye Wimberly

Publisher: Your Online Publicist

Published Date: December 21, 2020

Book Genre: Memoir



About the Author

Alice Faye Wimberly currently resides in Huntingdon, Tennessee, with her new, loving husband. Together they work to spread the importance of relationships built on trust, respect, and a dedication to God. She finds comfort in empowering the members of her church and her readers to make the best of their lives, and she works to encourage all people to find fulfillment and peace.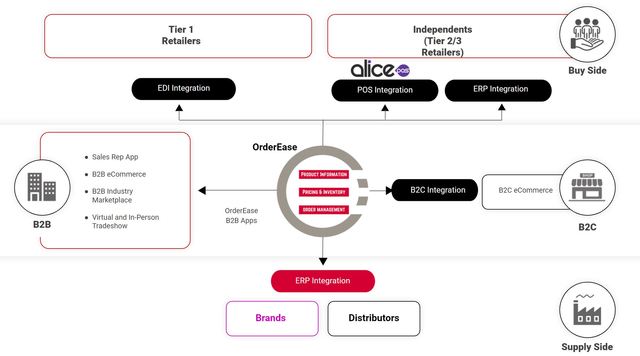 OrderEase, a cloud-based wholesale order management technology, and ALICE POS, a cloud-based retail point-of-sale solution, announce a strategic partnership to provide independent retailers in the Lawn and Garden (LG) industry the opportunity to not only modernize their POS system, but to digitally connect their supply chain via the integration of order data between ALICE POS and OrderEase.

The partnership between OrderEase and ALICE POS provides independent retailers with the ability to manage the entire B2B order management workflow – from purchase order to invoice.

The impact of this integration is transformational for independent retailers:
POS integrated catalog brings new products to market faster. Retailers save time and money avoiding manual data entry. Vendor pricing is updated more quickly. Faster adoption and more choice of new products keeps customers engaged.
Automated procurement improves order delivery speed. Automated order workflow through a streamlined supply chain means faster order turnaround and a better customer experience. Retailers can also place vendor orders directly through the POS.
Endless aisle customer buying experience. Retailers can cost-effectively offer an endless aisle to their in-store customer – a combined physical and virtual shopping experience that includes ordering products not on shelf to be quickly delivered to the store or home – all from a single integrated business platform.
"Larger corporate retailers have heavily invested in best-in-class supply chain technologies. They have been able to quickly respond to sudden changes, and be responsive to changing customer expectations. Independent retailers can now take action to level the playing field to address how, when and where customers choose to receive products and services," says Warren Patterson, CEO of OrderEase.

"We are very excited about this partnership. Order Ease and Alice POS technologies allow retailers to focus more on their clients and less on logistics," adds Charles Beaupre, CEO of ALICE POS. "Independent retailers finally have the ability to become truly more efficient and thus more competitive – while improving the selling experience to their customers."

The vision pitched to retailers for these cloud-based technologies is two-fold: implement or upgrade to a modern Point-Of-Sale (POS) system; then use it as an integration point to be the hub of digital product data with the flexibility to communicate with both supplier and retailer technology. Digitizing the fundamental connections across key players in the supply chain creates a modern business model: an end-to-end digitally enabled supply chain network.

End-to-end digitally enabled supply chain network

Until now, independent retailer POS systems didn't have the ability to pull in supplier data – everything was manually keyed in. "OrderEase connects disparate systems and, acting as a hub, connects vendor data, allowing retailers to access and pull supplier product information into their POS and eCommerce systems, as well as digitally place orders into their supplier systems straight from their POS," Patterson describes.

"This eliminates information latency, and aggregating data from all systems can help deliver the best customer experience possible. It makes costing, product information updates, and adding new products fast and accurate. Moreover, independent retailers can now offer endless aisle capabilities with accurate product information, pricing and inventory direct from the supplier," says Patterson.

The POS integration point has become even more super-charged with ALICE POS featuring specifically tailored features to the LG retailer. "ALICE POS allows us to quickly access our inventory catalog, manage pre-orders and easily create invoices," says Frédéric Lavoie, of retailer Jardin Eden.

From computerized inventory management to the ability to suggest minimum inventory quantities, ALICE POS launches LG retailers into the modern era. Now pricing can be managed uniformly across several stores, with the flexibility to add unique items and pricing within a single store.

ALICE POS is further tailored to the LG retailer with features such as labelling that can be formatted to handle complex and Latin names, but also adapted to fit product and serialized for faster product search. Rental services support is another ALICE POS feature, tracking tool availability, rental dates and item condition. Mobile device compatibility means additional tablets used by staff can help reduce check-out line-ups, go paperless by emailing customer receipts and even take orders outside of the garden center.

For overall flexibility, ALICE POS customers only pay when the system is in use and the data is saved until restart – perfect for those businesses that temporarily close during slow periods. From detailed customer files that customize the buyer experience, to running promotions, inter-store inventory transfer to shorten customer wait times, ALICE POS helps future-proof the LG retailer whether they be independent garden centers or in multi-stores, such as franchises, corporate networks and buying groups.

The partnership timing is timely as the pandemic exposes weaknesses in the responsiveness of supply chain management. "It is a tumultuous time. Product availability due to supply chain issues and pricing volatility has made it difficult for retailers to not only manage and maintain their POS systems, but to manage and deliver on even higher customer expectations. This partnership will allow independent retailers with access to real-time pricing and inventory straight into their POS and eCommerce systems," states Beaupre.

Adds Patterson, "With ALICE POS and OrderEase, the lawn and garden industry will become one step closer to a fully integrated wholesale ecosystem."

To learn more about OrderEase and ALICE POS, or to request a product demo, visit www.orderease.com/oe-alice or contact us at sales@orderease.com.

About OrderEase

OrderEase believes wholesale ordering can be easier-and so do more than 12,000 customers who use their solution.

The OrderEase cloud solution synchronizes retailers with wholesalers utilizing a centralized hub that connects supply chain systems with online product catalogs for fast, accurate wholesale ordering. Uniquely positioned to capitalize on streamlined wholesale ordering, OrderEase's proven technology, growing customer base, and strategic business model makes it an ideal solution for industries with complex pricing models and customer tiers.

OrderEase serves multiple industries, including lawn and garden, lumber and building materials, pet supplies, craft beer, grocery, convenience, and home décor.

About ALICE POS

ALICE POS is a powerful cloud-based retail point-of-sale solution for networks such as franchises and buying groups. This software allows stores and their Head Office to centralize branch data, including offline and online sales. ALICE POS deeply modernizes retail with a solution open to external API integrations, and more specifically specializes in eCommerce store networks with features such as used product management, rental, repair, trade-in, buy-back, consignment selling and more! To find out more, contact our team.