Rome – WEBWIRE – Tuesday, April 12, 2022
Enel, the European Investment Bank (EIB), via its development branch EIB Global, and SACE, the Italian export credit agency, agreed on a multi-country, multi-business and multi-currency facility of up to 600 million euros to support sustainable energy investments in Latin America through sustainability-linked financing instruments

This is EIB-SACE's first sustainability-linked transaction and the EIB's largest financing ever given to a private sector entity outside Europe

As part of the agreement, 130 million US dollars were granted to Enel Green Power Perú S.A.C., a subsidiary of the Enel Group, earmarked to support the development of wind and solar projects for nearly 300 MW in Peru, partially guaranteed by SACE
Enel, the European Investment Bank (EIB) via its development branch EIB Global, and SACE joined forces to support the development of renewable energy and energy efficiency programs in Brazil, Colombia, and Peru through sustainability-linked financing instruments to mitigate the effects caused by climate change. To this end, the EIB has provided Enel with a sustainability-linked financing framework which foresees a multi-country, multi-business and multi-currency facilityof up to 600 million euros (equal to over 650 million US dollars), backed by a guarantee from SACE.
This agreement represents EIB-SACE's first sustainability-linked operation and the bank's largest financing to a private sector entity outside Europe. Projects financed with this facility are expected to generate around 2,307 GWh of clean energy each year, equivalent to the annual consumption of 1.32 million households.
As part of the agreement, Enel Green Power Perú S.A.C., a subsidiary of Enel Group, was granted 130 million US dollars, earmarked to implement wind and solar photovoltaic projects for nearly 300 MW in Peru. The remainder of the 600 million euro facility will support the growth of the Enel Group's sustainable investments in Brazil and Colombia through renewable energy generation and power distribution projects.
[p"
This new agreement with Enel and SACE is a perfect illustration of how the EIB intends to work through EIB Global, where partnerships are central. It also shows our increased commitment to promoting sustainable and green investments in Brazil, Colombia, and Peru. At the EIB, we firmly believe that only by boosting the energy transition we can achieve the global climate goals while fueling economic growth and creating new employment opportunities,"
said
Ricardo Mourinho Félix
, European Investment Bank Vice President.[/p]
"Together with EIB and SACE, we are leading the transformation of international private and public finance towards a sustainability-linked approach," said Enel CFO Alberto De Paoli. "This evolution of sustainable finance will support long-term growth and a just transition, not only in Europe but also across Latin America, through a synergy between private and public players that aims to push sustainable development and accelerate the achievement of global sustainability goals, in line with the Paris Agreement and the United Nations' 2030 Agenda."
"We are proud to be part of this major project related to sustainable investments in Latin America with the collaboration of and in synergy with the European Investment Bank and Enel," declared Dario Liguti, Chief Underwriting Officer of SACE. "Thanks to the experience and know-how of over 40 years, SACE contributes to the success of "Made in Italy" in complex contexts, in which the role of risk mitigator and business facilitator is crucial. We truly believe that this operation will lead the way in increasing our collaboration with EIB, and in particular on sustainable finance." 
The 600 million euro facility is linked to Enel's ability to achieve its target for direct greenhouse gas emissions (Scope 1), measured in grams of CO2eq/kWh, equal to or below 148 gCO2eq/kWh by 2023, thus contributing to United Nations Sustainable Development Goal (SDG) 13 (Climate Action). Depending on the level of achievement of this target, the loan provides for a step-up/step-down mechanism that will trigger a margin adjustment.
The transaction is in line with Enel's Sustainability-Linked Financing Framework, updated in January 2022, which fully integrates sustainability into the Group's global financing program, as well as with the EIB Climate Bank Roadmap. Moreover, the framework is in line with the International Capital Market Association (ICMA)'s "Sustainability-Linked Bond Principles" and with the Loan Market Association (LMA)'s "Sustainability-Linked Loan Principles", as verified by the second-party provider V.E.
About Enel
Enel, which celebrates its 60th anniversary this year, is a multinational power company and a leading integrated player in the global power and renewables markets.
At global level, it is the largest renewable private player, the foremost network operator by number of end users and the biggest retail operator by customer base. The Group is the worldwide demand response leader and the largest European utility by ordinary EBITDA [1].
Enel is present in over 30 countries worldwide, producing energy with over 90 GW of total capacity.
Enel distributes electricity through a network of over 2.2 million kilometers to more than 75 million end users. The Group brings energy to around 70 million homes and businesses. Enel's renewables arm Enel Green Power has a total capacity of around 54 GW and a generation mix that includes wind, solar, geothermal, and hydroelectric power, as well as energy storage facilities, installed in Europe, the Americas, Africa, Asia, and Oceania. Enel X Global Retail, Enel's global advanced energy services business line, has a total capacity of around 7.7 GW of demand response managed globally and has installed 80 MW of behind-the-meter storage capacity. In addition, Enel X Way is the Group's new global business line fully dedicated to electric mobility, managing around 320,000 public and private EV charging points worldwide, both directly and through interoperability agreements.
[1] Enel's leadership in the different categories is defined by comparison with competitors' FY 2020 data. Publicly owned operators are not included.
About EIB
The European Investment Bank (EIB) finances projects in four priority areas: infrastructure, innovation, climate and environment, and small and medium-sized enterprises (SMEs).
EIB Global
EIB Global is the EIB Group's new specialized arm dedicated to increasing the impact of international partnerships and development finance.  EIB Global is designed to foster strong, focused partnerships within Team Europe, alongside fellow development finance institutions, and civil society. EIB Global brings the Group closer to local people, companies and institutions through our offices across the world. 
https://www.linkedin.com/company/eib-global/
About SACE
SACE is the Italian financial insurance company, under Italy's Ministry of Economy and Finance, specialized in supporting businesses and the country's economic fabric through a wide range of tools and solutions to support competitiveness in Italy and around the world. For over forty years, SACE has been the partner of reference for Italian companies exporting to and expanding in foreign markets. SACE also supports the banking system, providing financial guarantees to facilitate companies' access to credit; this role has been reinforced by the extraordinary measures introduced by Italy's Liquidity Decree and Simplifications Decree. The recent measures have, in fact, expanded SACE's mandate beyond the traditional support for exports and internationalization, adding important elements such as support for companies on the domestic market and guarantees for green projects in the implementation of the Italian Green New Deal – a new mandate that makes SACE an institution committed to promoting the development of the country. With a portfolio of insured and guaranteed transactions equal to 166 billion euros in investments, SACE serves over 33,000 companies, especially SMEs, supporting their growth in Italy and in around 200 foreign markets.
Today, Canada's Chief Veterinary Officer, Dr. Mary Jane Ireland, announced that the Canadian Food Inspection Agency (CFIA) and the Vietnam Food Administration have agreed to an African swine fever (ASF) zoning arrangement to allow for the safe trade of swine products from disease-free zones in Canada in the event of an ASF outbreak.

October 6, 2021 – Ottawa ON

Today, Canada's Chief Veterinary Officer, Dr. Mary Jane Ireland, announced that the Canadian Food Inspection Agency (CFIA) and the Vietnam Food Administration have agreed to an African swine fever (ASF) zoning arrangement to allow for the safe trade of swine products from disease-free zones in Canada in the event of an ASF outbreak.

ASF is a viral disease that does not infect humans, but poses a significant risk to the health of Canadian swine herds, pork industry and the Canadian economy.

Following their evaluation of CFIA's zoning proposal, Vietnam has agreed that restrictions on the import of Canadian pork and pork products, valued at $59 million per year, would be limited to the Primary Control Zone(s) in the event of an ASF outbreak in Canada. This arrangement would serve to minimize trade impacts to the Canadian swine sector while protecting the swine populations in both countries.

Zoning is an internationally-recognized tool used to help manage diseases and facilitate international trade. If a case of ASF is identified, geographic boundaries are defined to contain the outbreak. The area within these geographic boundaries form the Primary Control Zone(s) established in accordance with the World Organisation for Animal Health (OIE) guidelines. The areas outside of these Primary Control Zone(s) are considered disease-free zones.

Zoning arrangements have been established with the United States, the European Union, Singapore and now Vietnam, and they are being pursued with other trading partners. The arrangement with Vietnam is another positive step in Canada's prevention and preparedness efforts related to ASF.

Quick facts

Canada's pork industry contributes over 100,000 direct and indirect jobs and generates approximately $28 billion to the Canadian economy.
In 2020, Canada exported 1.49 million tonnes of pork to 95 countries at a total value of over $5 billion. Canada is the third-largest pork exporting country in both value and volume and represents 14% of the world's pork trade. Canada exports nearly 70% of its live hog and pork production.
The value of pork exports to Vietnam in 2020 was $59.2 million.
ASF cannot be transmitted to humans and it does not pose a risk to food safety. Canadian pork is safe to eat.
ASF is a contagious, fatal swine disease that spreads to pigs through both direct and indirect contact with infected pigs, pork and pork by-products.
There is no treatment or vaccine for ASF.

Associated links

African swine fever (Canadian Food Inspection Agency)
News Release: Canada and European Union mitigate potential trade impacts by allowing safe trade in disease-free zones in the event of an African swine fever outbreak
Canada, United States agree on application of zones to allow safe trade in the event of an African swine fever outbreak
Singapore agrees to zoning arrangement to allow for safe trade from Canada in the event of an African swine fever outbreak

Chevron U.S.A. Inc., through its Chevron New Energies division, announced it has agreed on a framework to acquire an equity interest in ACES Delta, LLC (ACES Delta), which is a joint venture between Mitsubishi Power Americas Inc. (Mitsubishi Power) and Magnum Development, LLC (Magnum) that owns the Advanced Clean Energy Storage project. This project will produce, store and transport green hydrogen at utility scale for power generation, transportation and industrial applications in the western United States.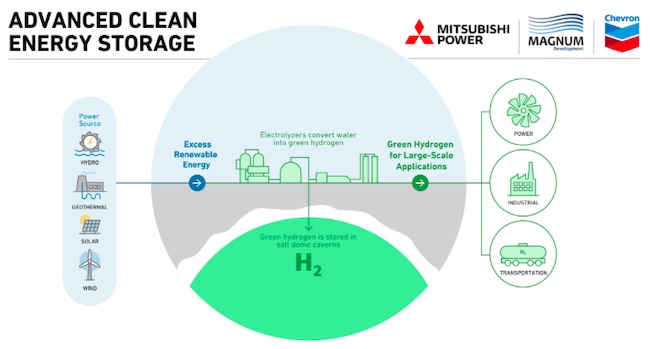 The Advanced Clean Energy Storage project will produce, store and transport green hydrogen at utility scale for power generation, transportation and industrial applications in the western United States. (Credit: Mitsubishi Power)

The joint venture is located in Delta, Utah, adjacent to the Intermountain Power Plant, which will use green hydrogen to produce electricity with lower lifecycle carbon emissions. Future anticipated projects include the expansion of green hydrogen supply to other Western states and the construction of connecting hydrogen infrastructure to build a regional hydrogen production, transportation and supply network. Chevron is working to build demand for hydrogen — and the technologies that support it — in heavy-duty transportation and industrial sectors in which greenhouse gas emissions are hard to abate.

"Chevron New Energies was created to grow new competitive business lines in areas like hydrogen," said Jeff Gustavson, President of Chevron New Energies. "The potential to partner with Mitsubishi Power and Magnum Development on the Advanced Clean Energy Storage project presents an exciting opportunity that would bring together our unique strengths and would provide a scalable platform to supply our customers with affordable, reliable and ever-cleaner energy."

Paul Browning, President and CEO of Mitsubishi Power Americas, said, "For several years, we've been working with early adopters of green hydrogen in the power sector that have easy access to salt domes or existing hydrogen infrastructure, such as the Intermountain Power Agency and Magnum Development. Now it's time to connect massive geologic hydrogen storage in Delta, Utah, to power, transportation and industrial users throughout the western United States. Chevron's footprint and expertise in the transportation and industrial sectors make them an ideal partner for this next phase of expansion. Together with our customers and partners, we are creating a Change in Power."

"I look forward to the opportunity to collaborate with Chevron as a strategic partner in our ACES Delta venture. Chevron's participation will add tremendous value as we develop a world class – and world's largest – green hydrogen production and storage facility," said Craig Broussard, President, CEO and Board Chairman of Magnum Development, LLC. "Combined with Chevron's in-depth capabilities, the ACES Delta facility will serve as a platform to deliver on our shared vision and continue building our robust pipeline of high quality, actionable projects that will help decarbonize multiple sectors of the U.S. economy."

ACES Delta is co-owned by Magnum, which is a Haddington Ventures portfolio company, and Mitsubishi Power. Chevron, Magnum and Mitsubishi Power are negotiating definitive documentation outlining Chevron's participation in the joint venture. The terms of this transaction are subject to the negotiation of definitive agreements, and closing of the transaction will be subject to customary closing conditions.

For more information, visit bit.ly/3BZMGlK.

Copyright ©2021 JCN Newswire. All rights reserved. A division of Japan Corporate News Network.