By: J.H.W. Enterprises Property Management, Inc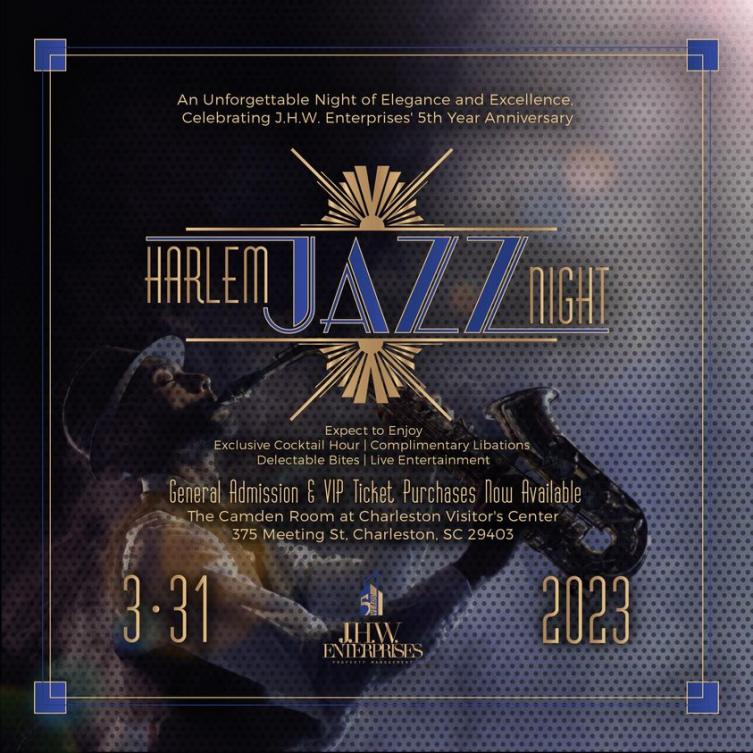 Harlem Jazz Night 5th Anniversary Gala
CHARLESTON, S.C. – March 20, 2023 – PRLog — J.H.W. Enterprises Property Management, Inc. is proud to announce that it will celebrate its 5th anniversary with a Community Day service project and Harlem Jazz Night Gala event on March 30 and March 31, 2023. This special occasion will mark five years of growth, innovation, and success for the organization in its home base of Charleston, South Carolina.
Founded in 2018 by Charleston resident Jaymes McCloud, J.H.W. Enterprises Property Management, Inc. has established itself as a leader in the property asset management industry with over 500 doors managed across South Carolina, Maryland, and Texas. With a passion for capitalizing on the strength of the current economic growth in the state and region by adding value to its clients, employees, and residents through resource efficiencies and a culture for success, the company has been dedicated to providing effective and competent multi-family/apartment community property management to the mutual benefit of both residents and investors.
"Understanding the severity of the housing crisis that exists in this region that I call HOME, I'm especially proud that J.H.W. has been able to innovatively serve our partners and especially our residents with solutions where everybody wins. As we continue to endeavor towards greater solutions for attainable housing, we celebrate our efforts and the five years of commitment that have allowed us to continue to expand."
-Jaymes H.W. McCloud, C.E.O. of J.H.W. Enterprises Property Management, Inc.
The celebration will kick off with a Community Day service project in the historic Chicora neighborhood (3310 Florida Ave) on Thursday, March 30, 2023. The community is invited to join J.H.W. Cares, J.H.W. Enterprise's nonprofit extension, for free food, giveaways, a street cleanup effort, and fellowship from 4pm to 7pm. This event is in partnership with the North Charleston Police Department R.E.C.A.P. and candidate for City Council District 10 Aaron Hicks.
The Harlem Jazz Night 5th Anniversary Gala will be held on Friday, March 31, 2023, from 6:00 pm – 11:00 pm at the illustrious Camden Room of The Charleston Visitor's Center (375 Meeting Street Charleston, SC 29403). The event will be hosted by Kenya Dunn and features a cocktail reception, dinner, keynote address by C.E.O. Jaymes H.W. McCloud, and live entertainment by Starr Queen. The evening will also include a special awards ceremony to recognize the dedication and contributions of seven individuals for their pivotal role in contributing to the company's success. Additionally, a honoree will be presented with the J.H.W. Rising Star Award for their unparalleled commitment to excellence, tenacious work ethic, trusted leadership, and undeniable professionalism.
The 2023 J.H.W. Enterprises Awards honorees are:
Michael Goldberg
Elliott Wells
Kacie Marcus-Rupert
Kiersten Jordan
Keristen Mazyck
Pablo Ochoa Cortez
James Marlow
This year's 5th Anniversary Gala is proudly sponsored by Roper St. Francis Healthcare and LifeTagger. Event details can be found on Eventbrite at www.eventbrite.com/e/jhw-enterprises-5th-anniversary-gala-tickets (https://www.eventbrite.com/e/jhw-enterprises-5th-annivers…). For additional information about sponsorships, email info@jhwenterprise.com.