AzadikaAmritMahotsav was celebrated on the occasion of the 75th year of India's Independence with the rendering of India's National Anthem by the scientific fraternity.
Organised as a mix of physical and virtual events, the occasion witnessed the participation of Dr.Jitendra Singh, Union Minister of State (Independent Charge) Science & Technology & Earth Sciences; MoS PMO, PP /DoPT, Atomic Energy, Space, along with Prof K.VijayRaghavan, Principal Scientific Advisor, Professor Ashutosh Sharma, Secretary of Department of Science and Technology(DST) and of Ministry of Earth Sciences (MoES), Dr.RenuSwarup, Secretary Department of Biotechnology (DBT), Dr.Shekhar Mande Director General, Council for Scientific and Industrial Research (CSIR), who were present physically and Shri K N Vyas, Secretary Department of Atomic Energy and Dr. K Sivan, Secretary Department of Space who were present virtually.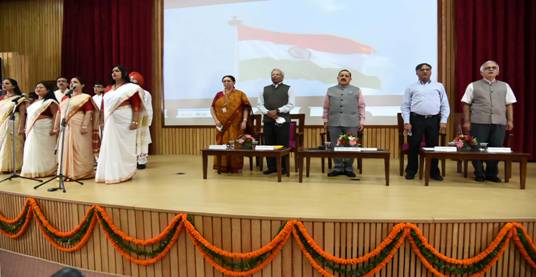 Addressing the scientists on this occasion, Dr.Jitendra Singh, Hon'ble Minister, stressed the need for scientific thinking for the development and progress of the country. "When we became independent 75 years ago, nobody gave us a chance, and they thought we would not be able to handle it. However, we have proved them wrong, and we have done much better than many other countries who become independent at the same time. We are a frontline nation in various fields in the world, and a lot of credit for this goes to the hard work and dedication of our scientific fraternity. They have contributed enormously to India's rapid ascent in the last 75 years. Rendering of national anthem by Indian scientific fraternity together is happening for the first time, and the occasion can be a source of inspiration to work together for the growth and development of the country," Dr.Jitendra Singh pointed out.
A DST-CSIR-DBT-MoES joint choir led the rendering of the National Anthem at the podium in MoESMahika Hall. All senior scientists (Scientist F and above) of the 6 departments and some eminent scientists joined the rendering of the National Anthem at the hall while all other scientists of these 6 departments and their Autonomous Institutions and Laboratories joined virtually. Nearly 800 scientists participated in person and virtually in the event.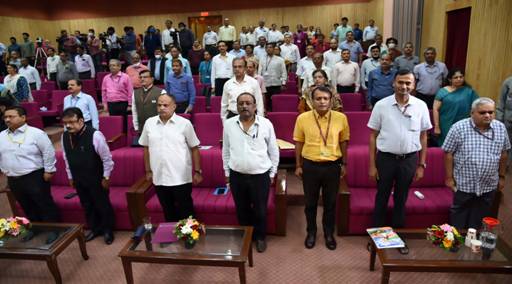 A video prepared out of the joint rendering of the National Anthem will be shared with Minitsry of Culture for uploading on the portal https://rashtragaan.in  and posted on social and digital media to celebrate 75 years of Independence.
<><><><><>
SNC/TM/RR
(Release ID: 1745501)
Visitor Counter : 226



Read this release in:
Hindi