MELBOURNE, AUSTRALIA, Apr 5, 2023 – (ACN Newswire) – Mitrade, the leading online CFD trading platform, has announced the launch of Mitrade Academy. Mitrade Academy is designed to cater to traders of all levels, providing them step-by-step guidance in their respective learning journeys. Users are able to access a wide range of interactive courses, tutorials, and resources that cover all aspects of trading. The academy can be accessed via web and mobile browser.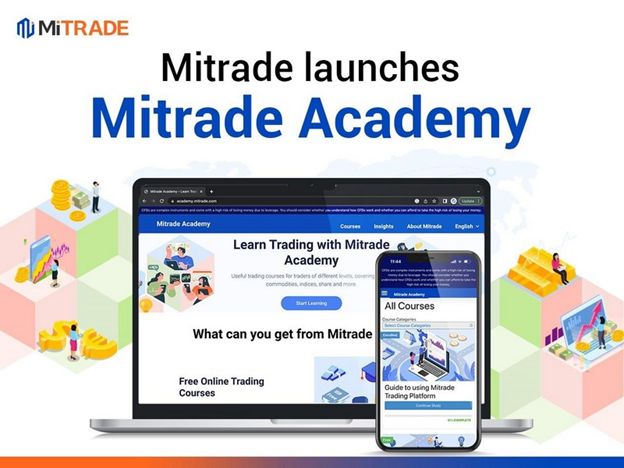 Mitrade Academy's key feature offers the ability to save progress and resume anytime anywhere. This feature enables learners to continue their studies from where they left off, regardless of the location or the device they are using. On top of that, users are able to use one account to transition seamlessly between education to application. Enabling them to reinforce their learning by putting theory into practice immediately.
The development of Mitrade Academy is led by a team of trading experts, with their experience and dedication to helping traders succeed in the markets, the team is committed to achieving Mitrade's goal of offering a simplified trading experience through the academy. You can start learning about trading here.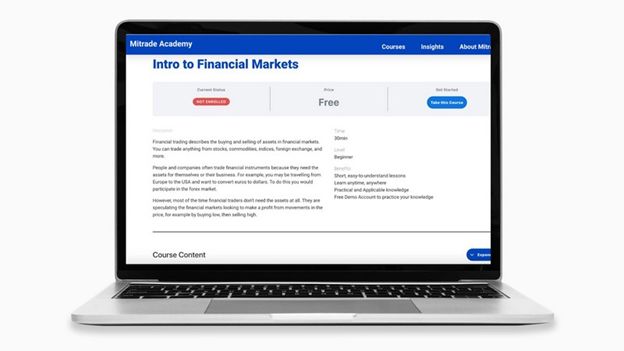 Wide range of trading courses available
Mitrade Academy offers an extensive range of courses that cover various aspects of trading, including technical analysis, risk management, and trading psychology for all levels. The courses are interactive and feature practical examples and case studies to help traders apply what they have learned to real-world trading scenarios. Mitrade Academy plans to release new courses every month, providing traders with a consistent stream of fresh learning materials.
Learn at your own pace
Mitrade Academy recognizes the difficulty of finding the time to finish an online course. That's why the platform is designed for utmost accessibility and allows users to save their course progress and pick up where they left off at any time, anywhere. Individuals can conveniently revisit course materials, making it the ideal solution for those with limited free time.
How To Start Learning With Mitrade
Create an account with Mitrade by clicking here.
Head over to Learn > Academy
Hit "Start Learning" and view the wide range of trading courses that Mitrade offers.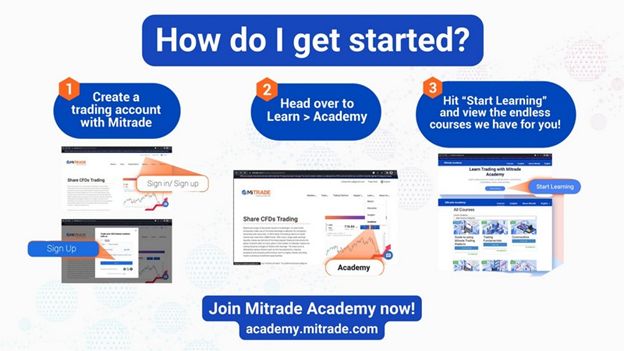 About Mitrade
Mitrade offers access to a wide range of financial instruments, including forex, indices, commodities, and cryptocurrencies. The platform is user-friendly, intuitive, and features advanced trading tools and features that cater to the needs of traders of all levels. Mitrade is committed to providing its users with a secure and reliable trading environment and offers 24/5 customer support to assist with any queries or issues.
To start learning with Mitrade Academy and experience the fun and engaging way to trade, please visit Mitrade Academy.
Social Links
Facebook: https://www.facebook.com/MitradeOfficial
Twitter: https://twitter.com/MitradeOfficial
LinkedIn: https://www.linkedin.com/company/mitradecom/
Instagram: https://www.instagram.com/mitrade_official/
YouTube: https://www.youtube.com/c/Mitradeglobal/
Media Contact
Brand: Mitrade
Contact: Media team
E-mail: branding@mitrade.com
Website: https://www.mitrade.com/
Australian Forex and OTC derivatives trading broker Mitrade has received two esteemed awards by FxDailyInfo at the Forex Broker Award 2022.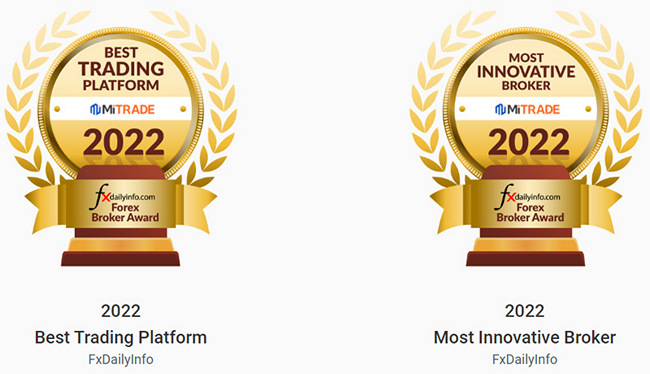 Mitrade wins two esteemed awards at Forex Broker Award 2022
Mitrade has been crowned the Most Innovative Broker 2022 and the Best Trading Platform 2022. The awards are given by FxDailyInfo, which rewards Forex brokers for consistent innovation and intuitive trading platforms. To declare winners, FxDailyInfo also takes into account several key factors including ground-breaking technology, cross-platform compatibility, responsive customer service, risk management, and fast growth.
"We are profoundly humbled to receive these distinguished awards. We take this double win as a recognition of our hard work and commitment to make trading easy for all. This milestone is an inspirational motivation for our team, that we are on the right track. This achievement has encouraged our team to bring even more innovation to our trading system and make Mitrade a leading Forex trading platform. Our team strives to make our trading platform more intuitive in the future," said a representative of Mitrade.
Mitrade went through a massive structural overhaul of its team and resources in 2019. It introduced a proprietary web trading platform, which immediately started gaining worldwide attention and engagement due to its simple user interface and smooth function. Later on, the innovative WebTrader was complemented by mobile apps for Google Play and iOS. The mobile apps brought cross-platform compatibility to Mitrade, making trading on the go possible for everyone.
Earlier this year, Mitrade also bagged four 2022 awards from International Business Magazine — Most Trusted Broker Asia, Best Forex Educational Resources Global, Most Transparent Forex Broker Global and Best Trading Platform Australia.
Continuing its innovation streak, Mitrade has recently upgraded its mobile app with cutting edge features. The app now comes with a built-in economic event calendar that lets traders forecast market trends and craft a winning trading strategy ahead of potential market movements. The mobile app also has a tiered trading educational portal, which guides both beginners and experts.
This innovative spirit has won Mitrade many prestigious awards and added to its immense popularity among the global trading community. Mitrade's evolving technology, dynamic research tools, and instant-response 24/7 customer service fueled its growth to over 1,100,000 customers in a short span of three years. The Mitrade app on Google Play has surpassed 1 million downloads.
In addition, Mitrade has also won the Most Innovative Forex Fintech Broker 2021 by Global Brands Magazine and Best Mobile Trading Platform 2020 by Forex Awards. More information can be found at www.mitrade.com/about-us/awards.
For media inquiries, please contact Ms Belle Toh at belle.toh@mitrade.com.
About Mitrade
Mitrade is an innovative financial technology group and Forex trading leader. It operates under strict regulations by the Mauritius Financial Services Commission (FSC), Australian Securities and Investments Commission (ASIC) and the Cayman Islands Monetary Authority (CIMA). Mitrade was founded by technology experts and finance veterans who had a mission to simplify trading through consistent innovation. With its self-developed proprietary trading platform, Mitrade is pursuing its mission to provide simplified trading to all. Explore Mitrade at www.mitrade.com.
Mitrade's OTC derivatives trading contains leverage which can cause the loss of your entire capital.
Mitrade, the Melbourne-based Forex and OTC derivatives online trading broker, has received four exalted Forex awards by the International Business Magazine at International Business Awards 2022 (Asia).
Mitrade was named the Best Forex Trading Platform Australia 2022, the Most Transparent Forex Broker Global 2022, the Best Forex Educational Resources Global 2022, and the Most Trusted Forex Broker Asia 2022.
International Business Magazine recognizes better risk management, rapid growth, cross-platform compatibility, and transparency in the execution of transactions along with other elements of the ecosystem of Forex trading. International Business Magazine champions best performing Forex brands on the regional and global levels.
They reward performers for pioneering technology, super-responsive customer support, market research tools, tiered approach to trading education, and a user-friendly interface.
This award is a yardstick of success for Mitrade as award winners are nominated and selected by a team of unbiased, dynamic, and well-trained field experts. The award process is supervised by expert panelists who are experts in key subject matters, judging panelists who make up the research team, and an editor. The team carries out in-depth analysis and declares as winners the best performers among Forex trading service providers.
"We feel privileged and profoundly humbled upon receiving these awards for providing devoted trading services to our worldwide customers. These prizes reflect our commitment to consistently innovate and upgrade our trading platform. In this moment of elation and pride, we extend our gratitude to our customers who embraced our self-developed trading platform and valued our technology. We strive to supply an intuitive trading platform to traders in Australia and around the world. This achievement encouraged our team to further improve our services for our users and be an inspiring leader in Forex trading," said a representative of Mitrade.
Mitrade witnessed brisk growth since it went through the restructuring process in 2019. Key reasons behind its massive and generous acceptance by the global trading community are low threshold trading, extensive market research tools, and a straightforward trading platform.
Mitrade has a user-friendly app for Android and iOS users, and an innovative WebTrader, which respond to users to different platforms. Mitrade has also broadened its platform offerings to 400 products including commodities such as gold, Forex, US shares like Tesla, crypto currencies, and indices.
The founders of Mitrade are experts in technology and finance veterans. Their iron will to achieve excellence and innovation has made possible for Mitrade to win illustrious awards and the trust of the global trading community. The founding team has first-hand intelligence of the specific needs of swing traders and savvy investors. Keeping this in consideration, the founders came up with inventive solutions to streamline trading procedures. On top of this, the founding team has maintained a customer-first strategy.
Mitrade lowers the cost of trading by offering zero commissions. It provides educational programs that suit beginner, intermediate, and advanced level traders. Mitrade furnishes its mobile and web apps with live support. The self-developed platform administers dynamic charting and real-time email and SMS push notifications as well. On top of this, Mitrade regularly updates its systems to ensure that users enjoy an excellent trading experience.
Mitrade's mobile app has hit 1 million downloads on Google Play. The company also has amassed 1,100,000 active users in less than two years. Its transparent transaction execution and user-friendly interfaces have been the key factors in attracting new users from around the world.
For continuous innovation and service delivery, Mitrade has won the Most Innovative Forex financial technology Broker 2021 award by Global Brands Magazine. Mitrade has also won the Best Forex Broker Asia 2021 award by FxDailyInfo. Mitrade has a decorated collection of awards to its credit. View the collection at https://www.mitrade.com/about-us/awards.
For media inquiry, please contact Ms Belle Toh at belle.toh@mitrade.com.
Mitrade's OTC derivatives trading carry high leverage and may lead to the loss of your whole capital.
About Mitrade
Mitrade is an innovative financial technology group and a leading service provider of Forex trading, crypto currency trading, and CFD trading. The company's functions are strictly regulated by the Mauritius Financial Services Commission (FSC), Australian Securities and Investments Commission (ASIC) and the Cayman Islands Monetary Authority (CIMA). Mitrade has set up its offices across all continents, and it caters to investors and traders across the world. Mitrade is firmly and conscientiously pursuing its mission to bring innovation and simplification in trading, and to ensure transparent transactions. Explore Mitrade at https://www.mitrade.com.
Media contact
Belle Toh, Mitrade Holding Ltd
Email: belle.toh@mitrade.com
Website: https://www.mitrade.com/


Topic: Awards