"Warabe" by Japanese taiko performing arts ensemble Kodo to open LCSD's Great Music 2023 (with photos)
******************************************************************************************

     After a hiatus of eight years, the Leisure and Cultural Services Department (LCSD) once again has invited Kodo, Japan's taiko (Japanese drumming) performing arts ensemble, to perform in Hong Kong in early September, bringing Hong Kong audiences one of its 40th anniversary productions, "Warabe". It is the first time for this piece of work to be performed outside Japan. This soul-inspiring Japanese drum music will also kick-off the Great Music 2023.
 
     Kodo has created two pieces of works based on its name: "Tsuzumi" and "Warabe". The theme of "Warabe" surrounds its home base, Sado Island, where the ensemble creates the work by drawing inspiration from the location's unique environment. Kodo's "Warabe" references its classical repertoire and aesthetics from its early years. It presents various simple forms of taiko expression that celebrate the unique sound, resonance and physicality synonymous with Kodo. In addition, "Warabe" brims with diverse creative expression, filled with taiko drumming, regional performance art, traditional vocals, dance performance and more, which combine to create soul-touching rhythms of life with new music sparkling with originality.
 
     Kodo's mission is to explore the possibilities of the traditional art of taiko, and in the process forge new directions for a vibrant living art form. Since Kodo's debut at the Berlin Festival in 1981, it has given over 7 000 performances in 53 countries on five continents. The Boston Globe, a United States newspaper, once commented on Kodo's performance, "Indeed, if there is such a thing as perfection in music, Kodo comes as near to it as any group in the world."
 
     "Warabe" by Kodo will be held at 7.30pm on September 8 and 9 (Friday and Saturday) at the Grand Theatre of the Hong Kong Cultural Centre (HKCC). Each performance will run for about two hours, including an intermission of 20 minutes. Tickets priced at $180, $280, $380 and $480 are now available at URBTIX (www.urbtix.hk). For telephone bookings, please call 3166 1288. For programme enquiries and concessionary schemes, please call 2268 7321 or visit www.lcsd.gov.hk/CE/CulturalService/Programme/en/music/programs_1580.html.
 
     In addition, Kodo, together with local arts group Refiner Drums, will present a free performance at 2pm on September 10 (Sunday) at the Foyer of the HKCC. Both groups will perform their own pieces respectively and collaborate on stage. Transcending languages and cultural boundaries, the performance will allow members of the public to enjoy Chinese and Japanese drum music up close, and experience its artistic charm. The performance will run for about 45 minutes. For details, please refer to the above-mentioned website.
 
     The LCSD will present the Great Music 2023 from September to November. Various internationally acclaimed musicians and ensembles will gather in Hong Kong to perform an array of exciting and diversified music programmes. For more details, please visit www.lcsd.gov.hk/CE/CulturalService/Programme/en/music/groups_1576.html.
About 90% of Japan-affiliated companies based in Hong Kong manage or handle business in at least one Regional Comprehensive Economic Partnership (RCEP) market other than Japan, according to a recent survey conducted by the Hong Kong Trade Development Council (HKTDC).

the survey findings of Japanese companies in Hong Kong expanding their business in the RCEP market.">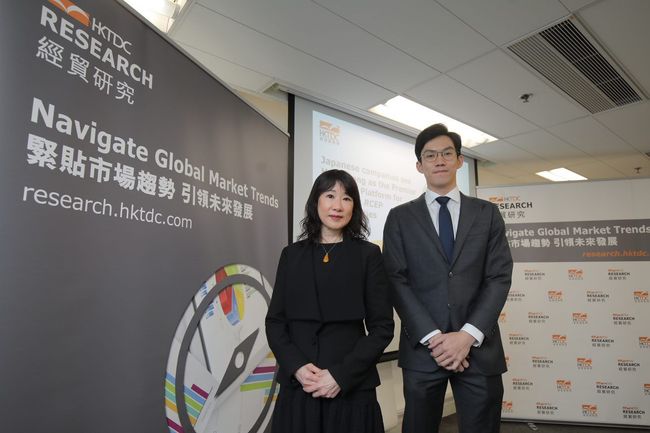 HKTDC Director of Research Ms Irina Fan (L) and HKTDC Economist Mr Corey To (R) announced
the survey findings of Japanese companies in Hong Kong expanding their business in the RCEP market.

More than 60% of respondents plan to expand their RCEP operations through their Hong Kong office in the next three years, with the Guangdong-Hong Kong-Macao Greater Bay Area (GBA) (40.4%) and the Association of Southeast Asian Nations (ASEAN) (39.4%) the most popular destinations.

The respondents are making use of Hong Kong's well-developed logistics and commercial networks, as well as its world-class business services to manage and expand their global business, particularly in the Asia-Pacific region.

Further integration into regional supply chains

RCEP came into effect last year, the world's largest free trade bloc made up of 15 member countries, including China, Japan, Korea, Australia, New Zealand and the 10 ASEAN economies. It accounts for about 30% of global GDP, trade and population, injecting impetus into regional economic development.

Last year, RCEP economies accounted for 71% of Hong Kong's total merchandise trade. "Hong Kong has applied for accession to RCEP and once approved, the city will become the first new member of the bloc, enjoying a wide range of benefits, such as tariff concessions. It will also help Hong Kong further integrate into regional supply chains and strengthen trade and investment with other members in the bloc, especially Japan and Korea, which have yet to sign free trade agreements with the city," HKTDC Director of Research Ms Irina Fan said.

Hong Kong: Premier platform for RCEP

About 1,400 Japanese companies have set up regional headquarters or offices in Hong Kong. With the support of the Hong Kong Japanese Chamber of Commerce & Industry (HKJCCI), the HKTDC has surveyed more than 100 Japanese companies via a questionnaire to better understand their business development in the first year of RCEP, advantages of the Hong Kong platform and services, and the city's role in helping them expand into the RCEP market.

Most of the survey respondents operate in the import and export trade sector, followed by wholesale and retail, finance and logistics. More than 20% said their Hong Kong office serves as the company's overseas headquarters or main regional office that manage operations outside of Japan. Other functions include marketing and sales (73.5%), logistics and supply chain management (36.3%) and sourcing and procurement (25.5%).

HKTDC Economist Mr Corey To said while Hong Kong is currently playing an important role in facilitating RCEP related business (close to 90% of the respondents manage or handle RCEP business via Hong Kong), over 60% of the respondents see Hong Kong as "important" or "very important" in helping them capture arising business opportunities in the RCEP region.

Respondents also revealed that strong regional connectivity makes Hong Kong the premier platform for RCEP. Core strengths include business networks with Mainland China (88.8%), freedom of capital flows and currency exchange (79.7%), efficiency as a transshipment and distribution hub (72%) and more.

More benefits from Hong Kong's RCEP accession

The survey also found that more than half of the Hong Kong-based Japanese trading companies have already enjoyed RCEP benefits, such as unified rules of origin, lower tariffs and streamlined customs procedures. Close to 80% anticipate more benefits, should the city join the bloc. This reflects Hong Kong's role as a major logistics hub in the region as well as its deep trade ties with many RCEP economies.

Mr To said among the non-trade sector, 60% expected to benefit from Hong Kong's RCEP accession, largely because of the anticipated increase in economic activity and investment flows across Mainland China, Hong Kong and Japan, and due to improved access for service sectors and enhanced intellectual property rights protection, which will create new opportunities for different sectors, such as e-commerce.

Overall, more than half of the respondents suggested that Hong Kong's accession to RCEP would improve their company's ability to capture RCEP business opportunities. Providing marketing information about RCEP economies and encouraging co-ordination among public bodies and regulators were also seen as helpful.

Hong Kong as a base for regional business

The survey results echo the statements made in HKTDC Research's in-depth interviews conducted with Japan-affiliated companies in Hong Kong. These case studies show Hong Kong's competitive edges in a number of areas, which is beneficial to Japanese companies that aim to leverage Hong Kong as a base for business expansion in the region: solid financial infrastructure, well-established hub for international trade and logistics, quality professional services and a pool of diversified talents, prime location adjacent to GBA and among key economies in the Asia-Pacific.

Please read Japanese Business Perspectives series published by HKTDC Research for more details:

Interviewee: Takeshi Iida, President and Managing Director, Mitsubishi Corporation (Hong Kong)
Research article: Harnessing the Power of Hong Kong as a Commercial Hub
https://research.hktdc.com/en/article/MTEwNjgwMzA0MA

Interviewee: Atsushi (Ash) Kato, Head of Corporate Office, NTT DATA Hong Kong Limited
Research article: Integrating Regional Payment Solutions via the Hong Kong Hub
https://research.hktdc.com/en/article/MTEzMzgwMjM0Nw

Interviewee: Min Zhu, CEO, BYFIN (SBI Group)
Research article: Hong Kong-Facilitated GBA Fintech Opportunities
https://research.hktdc.com/en/article/MTA4OTc3MDI5Nw

Interviewee: Yoshinori Nakamura, Managing Director, Tachibana Sales (Hong Kong) Ltd
Research article: Hong Kong Powers Regional Electronics Trade
https://research.hktdc.com/en/article/MTE1NDU3ODg1Mg

Interviewee: Susumu Muguruma, Chief Operating Officer, Valuence Holdings
Research article: Taking the Pre-owned Luxury Goods Trade Global via Hong Kong
https://research.hktdc.com/en/article/MTEyNjA3MDkzOQ

References
– HKTDC Research website: http://research.hktdc.com/
– Japanese companies see Hong Kong as premier business platform to tap RCEP opportunities: https://bit.ly/41ZN80v
– Photo download: https://bit.ly/3AIpppV

About HKTDC

The Hong Kong Trade Development Council (HKTDC) is a statutory body established in 1966 to promote, assist and develop Hong Kong's trade. With 50 offices globally, including 13 in Mainland China, the HKTDC promotes Hong Kong as a two-way global investment and business hub. The HKTDC organises international exhibitions, conferences and business missions to create business opportunities for companies, particularly small and medium-sized enterprises (SMEs), in the mainland and international markets. The HKTDC also provides up-to-date market insights and product information via research reports and digital news channels. For more information, please visit: www.hktdc.com/aboutus. Follow us on Twitter @hktdc and LinkedIn

Media enquiries
Please contact the HKTDC's Communication and Public Affairs Department:
Beatrice Lam, Tel: +852 2584 4049, Email: beatrice.hy.lam@hktdc.org


Topic: Press release summary
New agreement will enable the online travel agent (OTA), which is rapidly growing in the Japanese market, to capitalize on Sabres advanced shopping algorithms and rich content
SINGAPORE and TOKYO, Japan – WEBWIRE – Friday, December 9, 2022

INFINI Travel Information, the exclusive Sabre GDS distribution partner in Japan, and Sabre Corporation (NASDAQ: SABR), a leading software and technology provider that powers the global travel industry, today announced a new, multi-year GDS agreement with AirTrip International Corp. The deal will see AirTrip International capitalizing on Sabres global distribution system (GDS) as part of its strategy to spur growth of its outbound business with advanced technology.

Using Sabres rich GDS content, including NDC offers, as well as Sabres Bargain Finder Max API, AirTrip International will be able to expand its content regime while creating compelling offers for its customers.

Bargain Finder Max utilizes Sabres proprietary shopping algorithm and broad array of rich content to deliver optimal itinerary offers in seconds. This will enable AirTrip International to create customized booking experiences for travelers by tailoring search results for the most relevant fares, based on itinerary preferences.

This is an important partnership for AirTrip International, and we are excited by the prospects of this collaboration, said Yusuke Shibata, President & Representative Director / CFO of AirTrip International. Our mission at AirTrip is to use advanced products and technologies with our unique position in the Japanese market to deliver a best-in-class travel experience for our customers. This mission is even more relevant as travel recovery gains momentum in Japan. Sabre is well-positioned to share its next-generation content and technology which will be an essential component in providing a superior customer experience.

AirTrip International established itself as a preferred choice of travelers in Japans highly competitive markets by focusing on meeting customer needs through a superior product experience. The OTA has proved itself to be resilient in its ability to adapt its business model quickly to the challenges which have emerged throughout the pandemic and is now focused on technological advancement for future growth.

We very much welcome the AirTrip International decision to choose the Sabre GDS as a distribution channel in Japan, said Kimio Uemura, CEO, INFINI Travel Information. It validates our vision for the Sabre/INFINI partnership and the need for advanced industry solutions that meet service needs, while effectively supporting travel agents desire to expand the breadth of their business models globally.

As travel agencies look to secure a competitive edge amid continuing recovery, they need a technology partner with the stability and resources to continue investing in advanced and new technology solutions, said Brett Thorstad, Vice President, Sabre Travel Solutions, Agency Sales, Asia Pacific. Theres a huge opportunity for AirTrip International to act fast and position itself for growth. AirTrips decision to become part of Sabres GDS will enable the OTA to tap into expected increased demand, during the recovery period and beyond.

About INFINI Travel Information
INFINI Travel Information, Inc. (Head office: Tokyo, Akasaka) the leading Japanese GDS in Japan, provides the reservation and ticketing system and related products for travel agents and connects with more than 350 airlines worldwide. INFINI, deploys more than 20,000 reservation and ticketing terminals. It offers an extensive portfolio of products, which combines its own innovative solutions for travel suppliers with leading technology its long-time partner Sabre to provide the most effective distribution options tailored to meet the needs of our customers and help them excel in the Japan market.

About Sabre Corporation  
Sabre Corporation is a leading software and technology company that powers the global travel industry, serving a wide range of travel companies including airlines, hoteliers, travel agencies and other suppliers. The company provides retailing, distribution and fulfilment solutions that help its customers operate more efficiently, drive revenue and offer personalized traveler experiences. Through its leading travel marketplace, Sabre connects travel suppliers with buyers from around the globe. Sabres technology platform manages more than $260B worth of global travel spend annually. Headquartered in Southlake, Texas, USA, Sabre serves customers in more than 160 countries around the world. For more information visit www.sabre.com.  

About AirTrip International
AirTrip International, part of the AirTrip Group, is a leading online travel company based in Tokyo that provides overseas and domestic travel products through its comprehensive online travel platform (AirTrip). Its innovative search engine integrates contents from multiple travel suppliers in real-time. This platform, coupled with its excellent telephone customer support simplifies travel choices and offers the customer a peace of mind. The AirTrip Group through its three distinct businesses: online travel (AirTrip International, Inbound Travel/Wi-Fi Rental, and Media), IT offshore development, and investment strives to grow continually, to contribute to the sustainable development of Asia, and to become the company of choice for the next generation.
An inspiring tale on the wonders of living a life with God in it
"The Redeeming Love of Christ" by Andy B. Nakagawa is a compelling novel telling how protagonist Joe Redland lived a good life by allowing God to guide him in his journey. In this story, Joe meets Susan Wordsworth who teaches him about faith, religion, and Jesus. Just as he was about to surrender himself to God, Joe begins to doubt Him when unexpected events separate him from Susan. Trying to move on, Joe meets someone who tries to convince him to live the life that he wanted without God in it. He realizes, however, that life is worth living with God in it.
 
This novel is a must read for skeptics and those who have lost faith in God. Nakagawa has created a wonderful story that will resonate to those have faced trials and challenges that made them doubt God and His plans. Nakagawa's prose and writing style also adds depth to the message he's trying to convey – our journey here would not be as magnificent and satisfying without God and his redeeming love. Be inspired and grab a copy of this wonderfully written book.
 
Born and raised in southern California, Author Andy B. Nakagawa is a third generation Japanese American. At a young age, Nakagawa already knew he wanted to be a writer. In 2016, his dream came true when he was inspired by God to write a book. Since then, he has written 20 books in a span of four years. All of his books are inspirational and based on the Word of God. "The Road to Victory," "How to Live a Holy Life," and "By Faith in Jesus" are some of the books he has already published.
 
 
The Redeeming Love of Christ
Andy B. Nakagawa
Paperback | $10.00
E-book | $5.00
www.andynakagawa.com
 
Book copies are available at Amazon and other online retailers.