EMBARGO : NOT TO BE PUBLISHED/BROADCAST/
OR USED ON SOCIAL MEDIA BEFORE 15 AUG 22, 0001 HRS
Flight Lieutenant D Ravindra Rao (35147) Flying (Pilot) is on posted strength of a Fighter Squadron.
On 06 Nov 21, Fit Lt D Ravindra Rao was ferrying a Jaguar fighter aircraft to another base as part of a detachment. After landing, while carrying out post flight inspection of his aircraft, he heard a loud explosion and saw another Jaguar aircraft crashing and skidding off the runway. He, while still kitted up with his full flying clothing, sprinted towards the crash site and found the crashed aircraft inverted with a part of canopy broken, both engines still running and the pilot bleeding and hanging from the ejection seat straps. By this time, one Crash Fire Tender (CFT) had already reached the crash site and was dousing the crashed aircraft to extinguish flames. In the meantime, the second CFT also reached the accident site and was actively directed by Flight Lieutenant D Ravindra Rao to throw extinguishing foam at the correct place. He established that the engines were still running and the pilot's ejection seat was live, which posed a grave risk of fire and explosion. Moreover, the pilot was not able to escape from the inverted aircraft. Without wasting any time and thinking of any danger to his life, Fit Lt D Ravindra Rao crawled into the inverted cockpit, operated the crash gang bar and attempted to operate engine throttles to stop position. Meanwhile, the water sprayed on the engines became hot and started pouring on him and the pilot inside the cockpit. The extensive CO2 foam sprayed by the CFT made it difficult to breathe in that confined space; but he, undeterred by all dangers, continued the rescue operation. He had to reach for the stuck & inverted pilot's legs and remove leg-restrainers and open part of g-suit to free the semi-conscious individual. He helped to extricate the pilot from aircraft, helped the medical team to remove the pilot's flying clothing, assisted them to provide first aid and strap the pilot on to the crash stretcher.
Fit Lt D Ravindra Rao showed exceptional courage and gallantry in face of a direct threat to his life. He went far beyond the normal call of duty, personally involved himself in the rescue of the semi-conscious pilot and assisted & guided the rescue crew in effectively completing the rescue operation.
For this act of exceptional courage, Flight Lieutenant D Ravindra Rao is awarded Vayu Sena Medal (Gallantry).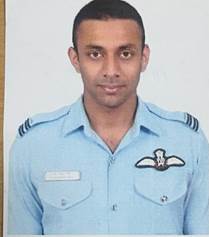 ***
ABB/AM/JP


(Release ID: 1851882)
Visitor Counter : 274