The eventfulness surrounding the ByteDex project is not showing any signs of stopping, with a constant stream of new announcements by the team, including 2 new listings by exchanges to add to an already warmly received news of an IEO with P2PB2B.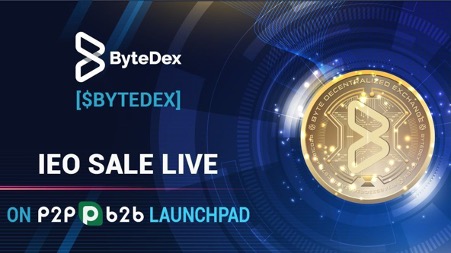 The two new exchanges on this scene are Coinsbit and IndoEx.
ByteDex is a team who is bringing to the market a novel hybrid exchange model that will incorporate functionality advantages of centralised exchanges, or CEXs, with many of the positive features inherent within decentralised exchanges[DEXs] being featured as well in a best of both approach to close a functionality and security gap it sees as flaws within the two models.
CEX Issues:
Privacy. Decentralised exchanges have their trades happen on the blockchain, allowing anyone to participate. Centralised exchanges require identity verification in the same way as banks and impose regulations on who can trade.
Accountability. Centralised exchanges have seen inside-job theft and hacking ploys drain and steal millions from their servers, because on a centralised exchange, a user's keys are held on the exchange's servers. The end users were never compensated, whilst the exchanges continued to operate without assuming any responsibility for their widely criticised security flaws.
Ownership. Holding your own private keys means tangibly owning your assets in as secure a manner as you choose.
CEX Benefits:
Huge amounts of liquidity and a wider variety of trading pairs [this is not always the case but generally true the majority of the time].
Fiat payment processing that allows for direct purchasing of cryptocurrency.
No unexpected fees [common on DEXs].
DEX issues:
Lack of liquidity
No central authority to process fiat payments.
Artificially inflated gas fees and slippage issues.
Frontrunning amounting to market manipulation.
DEX Benefits:
Trading directly on the blockchain
Privacy
Security – you hold your private keys.
With ByteDex, the threat of asset losses due to theft or hacking of centralised server information such as private keys or passwords, will be a complete non-issue, a thing of the past that need not continue.
Alongside this they earlier announced on online forums that 50 000$ in BYTEDEX tokens will be airdropped on August 15th, rewarding community members for social media engagement, promotion and content creation.
The format of BYTEDEX currently for the first issuance is TRC-10, so you will require a private tron or multi coin wallet. Byte Wallet can be downloaded from the Google Play Store [soon to come to iOS too], and more information on the process of starting your journey at ByteDex.io.