Press Release
•

May 8, 2023 15:00 EDT
In participation with .Tech Domains, Bybit, and MEXC Global, HackerNoon revamped its voting software and business database in order to better measure how startups trend around the world.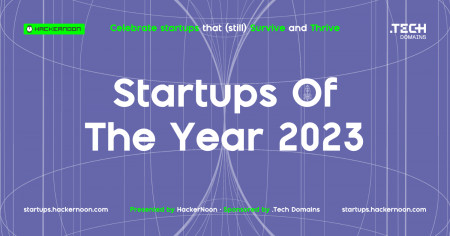 EAGLE, Colo., May 8, 2023 (Newswire.com)
–
HackerNoon, the technology publishing company, announced today the launch of Startups of the Year 2023 — a global, community-driven award for startups. This annual flagship event recognizes and celebrates the world's most innovative and game-changing ventures, with 30,000+ entities participating in a bid to be crowned the best startup in their city.
"Reflecting the technology industry requires a comprehensive company database, and with this campaign, I'm excited to discover and showcase the world's best startups," stated David Smooke, HackerNoon Founder & CEO. "We are building an open, reliable, and editable technology startup database that will enable technologists to make informed decisions about which emerging startups to learn about, invest in, partner with, or even work for."
Startups of the Year 2023 is a voting platform that recognizes startups that are changing technology and the world for the better. Starting May 8, 2023, the internet can nominate and vote for the best ventures in their city. The voting period will remain open until Dec. 31, 2023, and winners will be announced in January 2024 after a comprehensive evaluation by the HackerNoon team. 
How it Works:
The HackerNoon team has curated the initial 30,000+ startups from 4,000+ cities with a population of at least 100,000 people. These startups have either generated between $50,000 to $50 million in yearly expected revenue and/or secured $1 million to $100 million in funding. Anybody can nominate additional startups by scrolling down to the bottom of each city URL and entering their startup of choice. 
Apart from validation from the world's greenest tech publication, all nominees get free interviews relevant to their domain, region, and funding. They will also receive an amazing discount package designed for their startup and a free version of their very own Tech Company News Page on HackerNoon. 
In addition to the award itself, winners receive exclusive interviews, an exclusive NFT from HackerNoon, and a .Tech Domain for life.
"As the home to some of the world's most innovative startups, .Tech Domains is proud to sponsor the Startups of the Year 2023 by HackerNoon. As a domain extension that represents the very essence of technology and innovation, we are proud to support and empower the next generation of startups who are driving the tech industry forward with their groundbreaking ideas and solutions," said Sandeep Ramchandani, CEO at .Tech Domains.
As a proponent of the open data movement, HackerNoon releases the unique social data gathered from Startups of the Year on GitHub as "/where-startups-trend" for valuable insights. 
If you'd like us to power a digital voting experience on your site, please email partners@hackernoon.com.
Source: HackerNoon