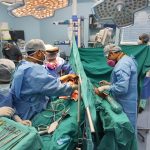 This unique surgery was performed by the team of Ortho Oncologist Dr. Praveen Gupta, Onco Surgeon Dr. Prashant Sharma, and Anesthesiologist Dr. Pushplata Gupta of Bhagwan Mahaveer Cancer Hospital and Research Center. This one of kind surgery was performed for 4 hours where the team of efficient doctors successfully removed cancer tumors from the arm, kidney and armpit with minimum blood loss.
Ortho Oncologist Dr. Praveen Gupta while giving insights about the procedure informed that the patient visited him with a pathological fracture in arm bone and suspected malignancy in arm/humerus bone. He was immediately referred for biopsy & whole-body PET-CT Scan. It was then found that cancer had originated from his right kidney and had extended to the left arm bone & axilla. Dr. Gupta along with other specialists decided to remove all three tumors in single sitting surgical interventions with a customized endoprosthesis.
Dr. Gupta further explained that the challenges were to operate cancerous tumors within a certain time frame so that surgical complications can be reduced and blood loss can be controlled.
Surgical oncologist Dr. Prashant Sharma removed the right kidney and Dr. Praveen Gupta simultaneously started procedures of removing arm bone tumor and axillary nodes, followed by reconstruction of the arm with pre-planned customize endoprosthesis by Dr. Praveen Gupta.
Post the successful surgery, the patient was able to use her hands without pain and hassle.
The team of doctors at BMCHRC further suggested that all suspected patients should undertake timely treatment to avoid risk and complications.